"An emotion does not cause pain. Resistance or suppression of emotion causes pain."
- Frederick Dodson, Parallel Universe of Self
What would you do, become, or find answers to, if you knew you held a key that unlocks it all?
I am here today to give you a glimpse to the key that is unlocking the unstoppable power within humans. It is a key that has been around for thousands of years. More than ever before, it is entering the mainstream health care system and taking people by storm. The key is hypnotherapy. Now more than ever, doctors, scientists, and researchers are fascinated with the results from this psychotherapy, as it is a way to constructively communicate with your subconscious mind while having your conscious mind take a step back.
The recorded use of hypnosis as a tool for transformation and healing dates back more than 7000 years. Hypnosis has always been a more common healthcare tool in other countries where it is not referred to as an alternative medicine. The ancient history of hypno is riveting and in today's world, the research and facts that document this therapy as constructive and effective is substantial. Hypnotherapy in Western culture has ebbed and flowed in popularity; it has sometimes flourished, sometimes almost disappeared, yet it has always survived— across cultures, geographies, technologies, and time itself—and for a very simple reason: it works!!
"Those who dream by day are cognizant of many things that escape those who dream only at night."
- Edgar Allan Poe
Creating possibilities for yourself has been said to be one of the greatest signs of intelligence. By using this therapeutic modality, obtaining these possibilities becomes completely accessible to anyone who "goes in" (to the subconscious). A compelling reason why hypnotism accomplishes this is because it allows your mind to expand into a childlike wonder, where anything is possible! Consider:
A child is open and naturally creative in the way he/she thinks.
It has been said that we are at our at our most genius state when we are children.
Children do not feel held down or pushed back.
Nor do they have the need to put meaning or titles on things.
Children are able to imagine something and then create it, with ease.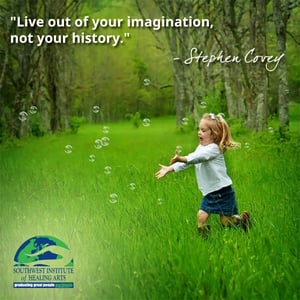 If we, as adults, can take on that state of mind and combine it with our knowledge and wisdom acquired through academics and experience, the ability to create a more brilliant world for ourselves is almost certain and inevitable.
Using hypnotherapy is one way to ensure that this state of mind is used to create a life you have possibly only imagined! It is beneficial to strive for living with a childlike mind so we can avoid being overly cynical or jaded, and prevent us from being close-minded adults with lazy, disengaged minds. We must redirect our minds to the wonders of existence!
"The secret to creativity is knowing how to hide your sources."
- Albert Einstein
To reach your creative high point, you must shed your fear of making mistakes, banish rigidity, and surrender to the flow. Try being a kid!
Recent scientific research on hypnosis used in today's healthcare industry, has had such impacting results, that different organizations are considering it in mainstream integrative medicine. The use of hypnosis in hospitals and mental health facilities will make this type of pyschotherapy a household name. Now there is scientific proof that 99.9% of everything we do as humans is through our subconscious mind. Becoming familiar with the inner workings of our minds through this modality will hold great value for anyone wanting to make changes or bring more ease into their lives.
Would you like to join me in taking control of your life and finding the key to your endless possibilities that you can create with the power of your subconscious mind?
Close your eyes, and with childlike wonder,
dream big, and
never stop searching!
Here's bit of my back story:
My journey truly began when I left Salt Lake City, Utah, for New York City. I was 23 years old and New York was my first experience in realizing that, "I am nothing, as well as everything." I was forced to create my world and survive; I learned that I was capable of more than I could possibly imagine. As I continued to grow into a woman in the City of Dreams, I realized my trials were actually opportunities to start over and re-create. I had many slap-downs in the city and I began to realize that I was also a servant of something so much bigger than myself. When I realized this, I was in a process of building a career in the beauty industry doing hair. On a positive note, my love for this work provides an opportunity to make people feel beautiful and confident. However, I also saw that there is a disturbing side to this coin. The cosmetic industry isn't black and white; it has many shades of gray, and I was feeling, deep down, that I was in need of a change or something bigger. I knew that there was so much more I needed to be doing.
I stayed in NYC for six years, working extremely hard as a hair stylist/master, colorist, and color educator. However, my time in New York had come to an end. I made a huge decision to sell my belongings and let go of my apartment so I could buy a one-way ticket to Greece. I knew that there was no turning back! I was now fully in-charge of finding my life's purpose. I knew that I would not return to the United States until I had a clear view of how I was going to manifest this next phase of my life. I knew I had to do something that I loved, that filled my soul inside and out. So I began my quest to create beauty from the inside, out. Using the power of the mind was my mission to discover. I traveled all over Europe, India, and Southeast Asia, seeking adventure that would open my mind. Over the last four years, I have been dedicated to learning all I can about how the mind, body, and soul work, searching for tools to support people in living their most desired life.
"A mind stretched to a new idea or experience, can never go back to its old dimensions."
- Oliver Wendell Holmes
I knew exactly what this meant.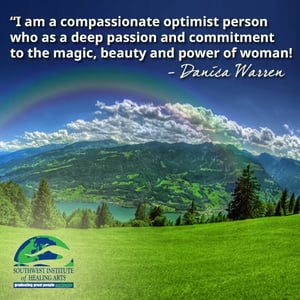 After hypnotherapy was introduced to me, I felt as though my quest to find "something more" was manifested. I am fully aware that hypnotherapy is something I am meant to do here on this earth, and I will weave my love for beauty into the fibers of teaching people how to BE beautiful, feeling it from the inside out. I have come to know how powerful the subconscious mind is and how to really find the unknown within yourself. This incredible tool will show you how to take control of your health, money, love, and abundance of love, which can all be brought forth, full force!
I'm currently enrolled at Southwest Institute of Healing Arts, in Tempe AZ. I am obtaining a degree in Mind-Body Transformational Psychology. This program combines Clinical Hypnotherapy, and Holistic Nutrition. I travel around the country embarking on emotional intelligence courses to see what works for different people from various cultures and walks of life, for sociodynamic and personal interest reasons. I am also doing hair for film production and hope to at least introduce this tool to as many people as I can. I am very committed in being an example and a teacher of how hypno is now, more than ever, a "mainstream" tool, similar to what meditation is becoming. There is a beneficial quality for every, single person.