When Gila Shire moved to Phoenix in 1997 after serving as a nurse in Germany for 14 years, little did she know that she would eventually end up teaching Prenatal Yoga at SWIHA. Once here, however, she made the bold decision to become a Certified Massage Therapist through SWIHA and build her own private practice.
Gila first began practicing yoga five years after her move, and it was that fateful introduction in 2002 that caused her life to gain a dynamic new dimension. Since then, she has became a Certified Yoga Teacher at the 500 hour level and now specializes in prenatal, restorative & yin yoga. She has been involved in the greater Phoenix yoga teacher training community over the last decade and developed a 20 hour prenatal yoga teacher training series that she is currently teaching at SWIHA.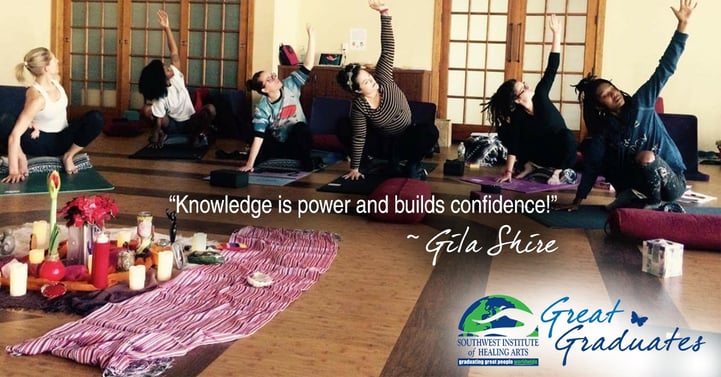 During the training, students will learn all about proper poses, do's and don't's, sequencing, breathing techniques, female anatomy, facts about the birth process in the United States and other countries in the world, nutrition, and the body-mind-soul connection of mother and baby while also exploring their own journeys of birth, motherhood, and parenthood. These students discover ways to teach classes that are mostly all-levels. Most importantly, they learn that the focus of prenatal yoga is for the mom to get in touch with her body, connect with baby, learn how to breathe, and practice using all those tools so the mom-to-be can apply them on the big day of giving birth.
The work that Gila has engaged in has always connected her with pregnant moms, and some of her clients asked her to attend their births. That's when she learned about the work of doulas and realized that she had served women for several years without knowing about the profession. She became officially trained with DONA (Doula Training and Doula Certification) in 2010. Since then, she had received additional postpartum training, trained with the sacred pregnancy movementm and studies "Birth into being" under Elena Toretti-Vladimirova. Her services also include prenatal and cupping massages, placenta encapsulation, and teaching bengkung belly binding to her clients.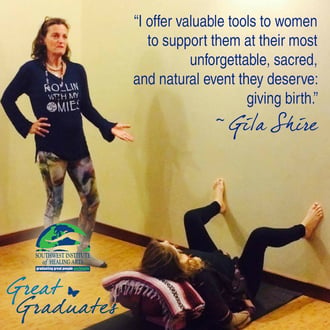 Gila's latest endeavor as a doula brings everything she learned over more than two decades into a full circle: her years of hospital and nursing work, the natural birth experience of her daughter Talisa in 1991 (which placed her onto the holistic path), her two "bonus" grandchildren, and her passion for health and life. "I offer valuable tools to women to support them at their most unforgettable, sacred, and natural event they deserve: giving birth, which is a true celebration and can be embraced as a sacred rite of passage."
As a doula, Gila sees big differences in women who practice yoga during their pregnancy. "They are better connected to their body and baby." They have learned how to move with more awareness, use their breath as one of the most important companions during labor and birth, become fearless and knowledgeable, and are making healthy choices from an educated place.
Prenatal Yoga Training is open to everyone who has interest in the miracle of life and who wants to learn evidence-based facts on yoga and birth. "This course is for EVERYONE who wants to know and learn all the important things about how to guide pregnant moms through yoga, preparing them (or yourself) for pregnancy, labor, birth, life, and more! This course will give you so much to take home and to share with your community!"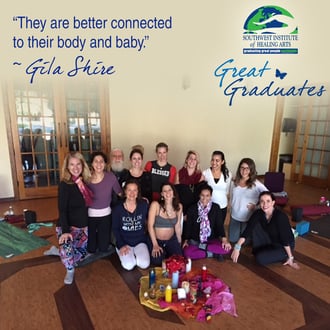 What Gila often hears from newer yoga teachers is that they are afraid of teaching prenatal yoga. She really wants those teachers to know that, "there is no reason to fear that! Knowledge is power and builds confidence! You might be THE leading source/connection to support a newly pregnant mom and yoga student! The more you are educated, the more you'll be comfortable teaching and sharing!"
The program is dear to Gila's heart. During the training, students will explore so many different aspects of pregnancy and life. This knowledge helps women (and men) know their options. The class also provides safe space for self-exploration.
Considering this class? Hear what past student, Zoey Greco, has to say:
"Gila lead our circle of women with compassion and wisdom. On a personal level, this course opened my eyes to the intricacies of pregnancy and delivery that mainstream medicine does not disclose. Professionally, this course helped me to overcome any doubts and fears I may have felt in teaching pregnant women how to attune their bodies to comfort and openness in preparation for birthing that I would never have otherwise acquired."
Considering taking this class? It will next be offered as a weekend intensive beginning on June 2. Enroll by clicking here!