In 2013, Niki Meadows gave herself a metamorphic birthday gift that would ultimately change the course of her entire life. In order to ensure that 2014 would be the year she would stop wishing for change and start working for a more fulfilling reality, she quit her corporate job and enrolled in SWIHA's life coaching program.
A natural-born life coach to those in her life, Niki chose to complete our 100-hour Life Coaching program to help her sharpen her skills so she could extend her gifts to others in a more professional capacity. Now the proud owner of Niki Meadows LLC, Niki identifies as a Women's Worthiness and Authenticity Coach, working with women to heal the relationship they have with themselves. "I love to connect with people! I'm now able to serve people and it's incredibly fulfilling to do something that has meaning and purpose. I'm also able to use the gifts and talents I was born with instead of trying to find creative ways to incorporate them into an environment that didn't have room for them."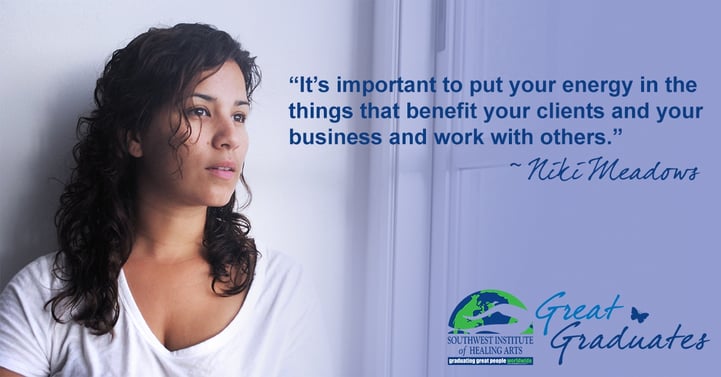 SWIHA is proud to present Niki to the world as one of our Great Graduates because she is truly a living example of our mission statement—She is sharing her gifts with the world in a loving and profitable way. Not only does her business serve her clients with transformative and empowering shifts, it also serves Niki in a profound way. "I wanted to build a business that was fulfilling and easily integrated into my life. I was tired of working for large companies and feeling more like a robot than a person. I have a small growing family and being away for the majority of the waking day wasn't sustainable to me. I now have a business that fits me like a glove! I provide services that are of value to people, no two days are ever alike, I can travel, I'm able to be with my children, and ultimately what I do fulfills me. I created the life I longed for."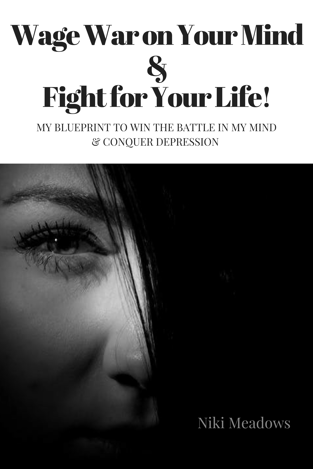 Niki now consciously co-creates her ideal life with the Universe and chooses to stand in her strengths with confidence. She has built a successful home practice through which she serves a global clientele. With the freedom to travel back and forth between Arizona and Spain, Niki's work touches lives transcontinentally! Perhaps even more exciting, though it was not in her original vision, she recently published her first book, entitled Wage War on Your Mind & Fight for Your Life!: My blueprint to win the battle in my mind & conquer depression. "After completing the life coaching course, I was open to follow the path as it unfolded. I was surprised that I was inspired to write a book that detailed how I overcame depression. I was able to write in a way that speaks to those struggling with depression that empowers them through coaching. [Though] I never considered writing a book like this, I couldn't have planned it better had I tried! It was definitely divinely inspired."
Niki is thrilled to reach the masses with her book, yet equally values the intimacy and interpersonal connections forged in one-on-one sessions with clients. Her clients come to her as "lost and broken" beings, seeking someone who understands, and who can safely guide them into a space of validation and recognition of worth from which they will learn true self-love and care. "I think one of the biggest ways my business impacts women is by encouraging women to create a healthy cycle of giving and receiving. So many women I work with give to the point of depletion. Learning how to replenish themselves and improve the relation between giving and receiving has been a simple yet profound way to enrich their lives."
One of the key's to Niki's sensational success is her openness toward sharing the marketplace with other powerful practitioners and people. "[I try to foster a sense of community.] I connect women with like-hearted women who seek connection over competition. This has created a place for women to come together and empower one another!" It is this very attitude of openness that attracts most of Niki's clients to her! In fact, she makes her most influential client connections when she is out in the world doing what she loves.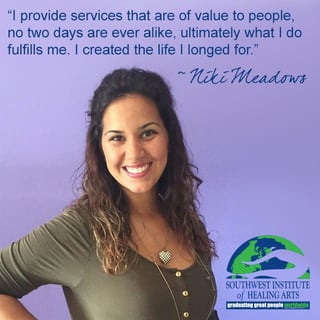 When asked what lessons she cherishes most from her time at SWIHA, Niki shared that she gained a sense of ownership of her intuition that she considers invaluable. "I've felt very connected [my intuition] for most of my life, [yet] felt out of place because of it. After attending SWIHA I've created an entire business around it! It's also something I no longer feel self-conscious about or try to hide or brush off. That has helped me to be more in alignment with myself and has helped me to further develop that gift." She remarked that she feels both humbled and enriched by what she learned while at SWIHA, mostly under the guidance of Richard Seaman. "I am so grateful each time I am able to hold space for someone. It also takes a lot of pressure off because learning to "be" allows sessions to flow naturally."
Niki shared these poignant words of wisdom with SWIHA students and graduates:
"[F]ollow your knowing. I don't think there's necessarily any one "right" way, however I do think there are things that are right for each of us. Stay true to who you are, to what feels right, and don't feel pressured to do everything on your own. Network, collaborate with others, and outsource where you can (even if you trade services with another entrepreneur). I think it's important to put your energy in the things that benefit your clients and your business and work with others to support each other according to your strengths."
If you would like to have your life enhanced by Niki, purchase her book, or simply connect with her, visit her website at https://nikimeadows.com/ or check in with her on social media at https://www.facebook.com/worthinessambassador/ or https://twitter.com/NikiMeadowsWA.