Amy Higgins, a loyal and committed employee at SWIHA, did something unexpected—she became a student again! Motivated by a childhood fascination with the natural world, Amy elected to participate in herbalist training and aromatherapy studies at SWIHA. She reflects on this decision, stating, "I've always been intuitively drawn to the magic of the plant world and the things which speak to my senses. I am deeply concerned with supporting individuals on an emotional level, no matter what they are going through."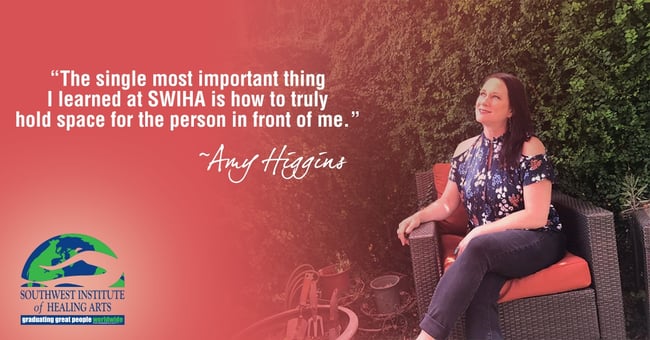 Amy finds nothing more satisfying than to know that the bottle of blended oils she makes for a client is being used to soothe their frazzled nerves, help them sleep better, or perhaps assist in regulating their hormones. Instead of digging up dandelions to add to her mud pies and river rock towers, she now knows how to create a healing tincture from dandelion root to tone and nourish a client or a batch of Chamomile Calendula healing salve for insect bites or burns. "I could do this work every day and never be bored. I feel I am contributing my ART and my PASSION to others who need extra support in their lives."
Along with her husband and business partner, Brian, Amy now runs Superstition Alchemy—an online store that lovingly serves as a "A Modern Apothecary" shop. This eCommerce business offers all-natural body care products featuring ingredients found here in the Arizona desert. Their mission? To use their "environmentally conscious, ecologically sustainable business" in a way that "betters the human condition and respects the planet we all inhabit" while providing "high-quality, well-designed, and practical products born from the discipline and ruggedness" of the American West.
Superstition Alchemy's current line is their Original #1 Collection of products with ingredients sourced from ecologically conscious American suppliers or wild-harvested directly from our beautiful state itself. This line—which will eventually expand to feature more products—includes such treatments as the AZ Healing Salve (containing Wildcrafted Chaparral, Sunflower Oil, Beeswax, and Arizona Jojoba), AZ Cooling Face Toner (containing Witch Hazel, Rose petals, Lavender buds, Chamomile, Wildcrafted Chaparral leaves and flowers, and Lavender), and much more! Amy says, "We want for our customers to feel they've spent their money on a quality product that is intended to improve their health in some measure. That our products are pleasing to the senses and soothing to the soul and wellness of the body while feeling connected to the healing chemistry of the earth— these are our goals. That's what we want our customers and clients to experience."
Amy is also considering adding service options to the website soon. She would eventually like to start seeing clients one-on-one for customized blending of products to support their individual health concerns, such as menopause, ADHD, depression, fatigue, arthritis, and sports injuries. She also plans to offer businesses or practitioners an option for customized/proprietary blends for their personal or business use. Amy knows that this would be useful for massage therapists, hotels, restaurants, spas, and hypnotherapy or life coach practitioners.
When it comes to their partnership, Amy describes her and Brian's roles as follows: "I am 'the alchemist' and Brian is 'the outfitter.' I create the products, and Brian is the main operations guy. Together we work well to brand and market the products, making sure we partner with those who will help us achieve our vision and goals for the company. We see our clients online and in person at events. We've even been known to hand-deliver products to some of our clients via beach cruiser! In the future though, we do SEE our own physical location with a storefront and warehouse… some day!"
Customers come to Superstition Alchemy primarily through word of mouth or social media. Amy has found that building and maintaining an active social media site or multiple sites is paramount to success. "The only way to be seen and heard is to go out there and be SEEN and HEARD. They come to us, we believe, because they are intrigued by the labeling and the ingredients. They value honesty in presentation, and we meet that need." As part of their commitment to be seen, Superstition Alchemy has donated hundreds of lip balms to charity events and corporate/networking events in the past six months. They also recently attended the Natural Products Expo West, where they spent time doing industry research and networking with other businesses and vendors.
Amy admits that the most challenging part of starting her own business was overcoming the fear of becoming an entrepreneur. "I guess it's still a challenge, yet I work through it and push forward." This challenge is made easier by her absolute passion for what she does: "This really doesn't feel like work. Now that I've discovered my place in the healing arts, everything seems to be falling into place. They say that's what happens when you're on the right track. So, I must be on the right track."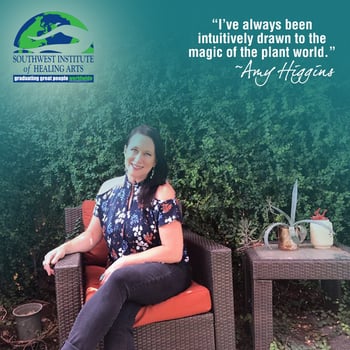 Amy recalls that the most influential instructors during her herbalist training at SWIHA were April Jaeger and JoAnn Sanchez, as well as JoAnn's supporting staff and guest speakers. She felt that these teachers facilitated incredible experiences both in the classroom and out in the field, stating, "I hold both women in high regard and treasure them deeply." She also believes that, "the single most important thing I learned at SWIHA is how to truly hold space for the person in front of me. I thought I was a good listener before and now I SEE the person in front of me and utilize the tools I've learned here to coach them in their health and wellness goals."
British GQ magazine recently contacted Superstition Alchemy to place an ad for their Chaparral Beard Oil in the summer editions for June, July, and August. The ad will appear in the luxury grooming section called "Fix Up Look Sharp." "We feel this is a HUGE step for Superstition Alchemy's success," Amy says.
Amy and Brian's products are available online www.superstitionalchemy.com, as well as in the Healing Pages Bookstore at SWIHA, and at Find It Funny Holistic Health Center in Gilbert, Arizona. For businesses interested in carrying their products, Superstition Alchemy has wholesale pricing available upon request. Please inquire at admin@superstitionalchemy.com.
Get in touch with Amy or Supersition Alchemy: