From an early age, Kimberlie Faybik was blessed with the ability to communicate with Spirit in a myriad of forms. She could communicate with an individual's higher self, their guides, connect with deceased loved ones, and tap into experiences of their past lives. Her journey to Southwest Institute of Healing Arts wasn't easy, as she battled through Merkel cell carcinoma over seven years ago.
"Multiple surgeries and dozens of radiation treatments later, I was fortunate enough to beat it," said Kimberlie. "Afterwards, I decided to take a more natural and holistic approach to my health. I became a Reiki Master, which opened the doors to meet more like-minded people, one of which told me about SWIHA."
After working in the healthcare field for over twenty years, coupled with her own personal experience as a cancer survivor, Kimberlie knew deep down that there was a better healing environment than the "cold and impersonal" healthcare system that currently exists as the status quo. Regarding the current healthcare system, Kimberlie shared how she felt like "just another patient or just another employee."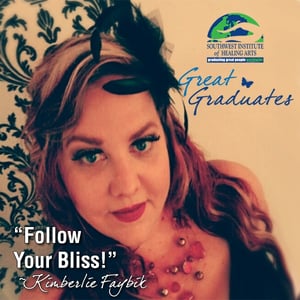 Her journey into holistic health and wellness began during her radiation treatments, where she was introduced to Reiki. "I felt amazing after my first session! I wanted to know more about it and other holistic modalities," Kimberlie exclaimed. From there, she started taking classes in everything that called out to her. By her one-year, cancer-free anniversary, she had become a Reiki Master and certified Essential Oils practitioner! She then enrolled into a program at SWIHA for her Associate Degree in Holistic Healthcare for Mind & Body Transformational Psychology. She graduated as a Holistic Nutrition Wellness Practitioner with her Clinical Hypnotherapist and Life Coaching certifications.
Naturally, her passion for helping people meet their spiritual and health/wellness goals led to the creation of her own business, named the White Willow Healing Center, based out of Tucson. Kimberlie gave us insight to her company's mission statement:
By combining different holistic modalities, using powerful coaching and proven hypnosis techniques, along with my gifts of Spirit, I can assist my clients in resolving negative habits and fears, help make healthy lifestyle changes, manage chronic pain, and resolve and release spiritual trauma, guiding them to the outcome they desire.
Another factor that led to the creation of her healing center is her entrepreneurial spirit, which has driven her to co-found another company that helps senior citizens live independently for as long as possible. Kimberlie says that she does most of her work out of her home (including Skype and phone sessions), but sometimes travels to meet with clients, as well. More specifically, she offers the following services for her clients: Hypnosis, Life Coaching, Auriculotherapy, Aromatherapy, Toe Reading, Intuitive Readings, and Reiki. She also hosts classes on Reiki Level I & II, Reiki Mastery, Crystals, and Essential Oils Basics.
Kimberlie told us it was quite easy to start her business: "I'm really passionate about what I do, and I'm fortunate enough to have support from friends. However, getting the word out there has been challenging, yet with the help of SWIHA and a few Instructors, I've learned ways to think outside of the box. I now have clients not only in Tucson but New York, Michigan, California, and Oregon!"

While Kimberlie has clients from all walks of life, most frequently they are individuals who are going through stressful situations who are looking for ways to find balance in their lives and/or ready to make positive changes. So what should a client expect from one of her sessions? Kimberlie said, "I offer my clients a safe, welcoming, judgment-free space to share their stories. My sincere hope is for my clients to benefit from the visit, feel truly valued, and see my passion to serve others shine through." In regards to her marketing strategies, she uses social media, workshops, quick demo/lectures, and Meet-Ups. "I also offer current clients discounts if they refer a friend who holds their appointment." She is blessed with many amazing clients and here is one of her success stories: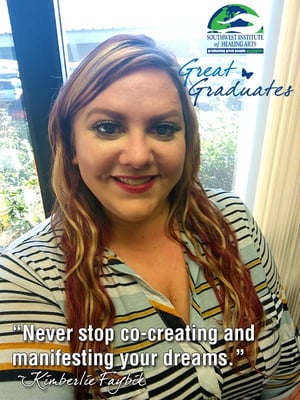 I had a client who was in an alcoholic and abusive relationship. I've worked with this client off and on in the past and knew of the relationship dynamics before they got married, however she was not at a point where she was ready to accept it. She felt, being in her forties, she was getting too old to start over and that he would change. After a year or so in to the marriage, she called saying she realized he wouldn't change, and she needed a way to be happy. We had life coaching and hypnosis sessions; we talked about finding value in herself and not expecting others to think or feel the same way about things as we do. I like to say we chipped away the years of mud and found her golden Buddha. Recently, she contacted me just to let me know how great she's doing. She's VERY happy with her life and grateful for the lessons. She took time to find herself again; started taking dance lessons, went on vacations with friends, and reconnected with her mother. I am so proud of the confident and vibrant woman she is now."
When asked to describe what it feels like to apply her SWIHA knowledge in a session or client interaction, Kimberlie exclaimed, "FANTABULOUS! Having the confidence that I am able to intelligently guide a client on their path is very rewarding...maybe a little ego-boosting, yet in the best way possible." She said attending SWIHA was the best thing she could have done for herself. "In learning how to help others find peace and let go of what no longer serves them, I also grew. I never realized how much negativity I held on to in regard to certain life events, or how much that negativity manifested in my life. Learning to let go and just BE and to follow my bliss has been so empowering!"
Her SWIHA education has fueled her to keep growing and learning, as she's created an extensive list of future topics she wants to study in the near future. "I believe we should never stop learning new things; it keeps us young!"

Kimberlie's main takeaway from SWIHA was a crucial one. "I learned how to love myself, how to forgive myself, and how to be more understanding of my journey and how to honor the journey of others journeys, as well."
She left me with this message for future SWIHA students and graduates: "Never stop co-creating and manifesting your dreams. Keep the momentum going, even when you're discouraged. It's ok to make mistakes, because without them we cannot learn and grow. 'Follow your bliss!' That pretty much sums up all you need to know to be happy in life. Stop following things that don't feel good, and go for what does."

Stay in touch with Kimberlie and her business via the links below!
 Web www.WhiteWillowHealingCenter.com
 FB: www.facebook.com/WhiteWillowTucson
 Twitter: @WhiteWillowHC