Gabriela Milan was always fascinated with psychology and the human mind, yet she knew that her passion didn't lie in simply studying conventional psychology. She suffered through twelve years of depression and was suicidal. She knew that she had to make a shift in her life. "I hired a life coach and discovered the amazing benefits of holistic healing through coaching. I looked for a school with this type of program, yet none of them felt right until I found SWIHA - I just knew I was home!"
Like many others who go through any SWIHA program, Gabriela cited the amazing energy (even during online courses) from teachers and classmates alike: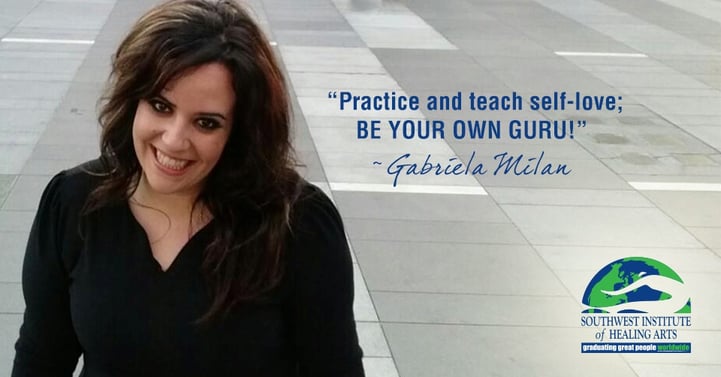 It's so hard to describe it, yet somehow they always made me feel special even when I had never met the teachers face to face. From day one, I felt like I mattered, and I was heard. That is something so hard to find when you study online. The energy of this school is so wonderful and strong that it travels miles and miles to make you feel welcomed and supported in each step!
Gabriela loves to work one-on-one with both women and teens, helping them to "build self-esteem and self-love… forgiving, moving on and finding their true value and worth." She also loves to work with individuals with the law of attraction and manifestation.
So, what are her favorite coaching tools in her toolbox? "The tools I love the most are charting your story, the values and beliefs, and the wheel of life. I also love the one about our eulogy and bucket list. I use all of those very, very often with clients."
Gabriela left us with this message for anyone considering becoming a life coach:
I would tell them that with each client they coach, they will be also coaching themselves. There are unlimited opportunities and growth potential in all areas of our lives as a coach, and it never stops. I will tell them they don't need to be perfect to do this; they simply need to access the space inside of them where they can hold space for others as they find their own answers!
Gabriela shared how coaching lights her up and fuels her passion the more she does it. "Each time I coach someone I get fueled. I simply get fueled by doing it!" Another motivating force for her to continue coaching is to remember where she comes from, and how much her life has changed. More than anything, her clients drive her, as she said, "My clients keep me inspired every day. I admire them so much that it moves me to be a better coach!"
Gabriela leaves us with this inspiring quote, one that she created and shares with her clients:
"Practice and teach self-love, BE YOUR OWN GURU."
"I make sure my clients understand that I won't and cannot fix them, as they don't need to be fixed. They need to know love, be love, feel love and to be their OWN personal guru. All the answers and wisdom is inside of each of them."