Throughout her late teens and all through her twenties, Leslie Davidson struggled with self-esteem and self-awareness issues. Like a lot of young women, she didn't have her father in her life when she needed him the most. "That sort of sent me into a place of dishonoring myself with men," said Leslie. To understand herself better, she studied sociology in college, yet this career path didn't fulfill her. "I was also looking for spiritual fulfillment and the ability to authentically be myself while providing service to others."
One fortuitous day, she was talking to a co-worker about life coaching. Her co-worker quickly left the room, and came back in with a course catalog from SWIHA. "I kid you not, as soon as I opened the catalog and saw information all about life coaching… I couldn't believe it! All that I could say was 'thank you God'!" She enrolled herself in the Holistic Wellness Practitioner program, and recently graduated in June of this year. "I have been coaching since that time and really look forward to my holistic business growing," exclaimed Leslie.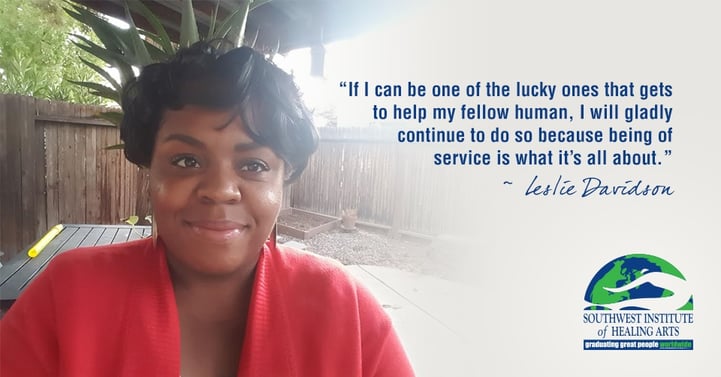 Leslie's clientele-base consists of women who feel unfulfilled due to their current mindsets. "They are not able to see the many possibilities that are available to them because they are either stuck in the past and can't see a way out of their current circumstances, or they don't have the confidence to know that they're powerful and able to make good decisions."
Every life coach has a handful of life-changing tools that they rely on, and for Leslie, those tools are the Wheel of Balance and the Change and Powerful Questions Questionnaire:
The Wheel of Balance helps clients to put their reality on paper so that they are visually able to see where they may be out of balance. The Change and Powerful Questions tool is my favorite because it helps the client to be able to get to that "Ah-ha!" moment that we coaches love to see! I never quite understood how powerful a question could be and if you ask the right question, you have the potential to change a life forever!
Leslie's coaching business is titled, Inside Job Life Coaching, LLC, a name that she created because of the notion that every great change we set out to make requires that we first go inside of ourselves! Her passion for this work remains fueled by the fact that so many people out there need help. Leslie added, "If I can be one of the lucky ones that gets to help my fellow human, I will gladly continue to do so because being of service is what it's all about!"
A potential life coaching student can look forward to experiencing a plethora of love and support from the SWIHA family throughout their process, according to Leslie. "From the staff that I spoke to while getting registered, to the people in the bookstore, to financial aid, and the instructors - I just felt completely supported and guided. Everyone was very personable and that is exactly what you need when you are going on a journey like this." Leslie went on to say how she initially approached the program with the intention of simply becoming an entrepreneur, yet was pleasantly surprised to have her life turned upside down – in the best of ways. "I had no idea that I would be transformed inside out with everything that I learned about myself, spirituality and how I'm connected to everything in this life."
Leslie leaves us with this beautiful quote from a Buddhist teacher by the name of Sogyal Rinpoche and it reads, "Light must come from the inside. You cannot ask the darkness to leave; you must turn on the light."