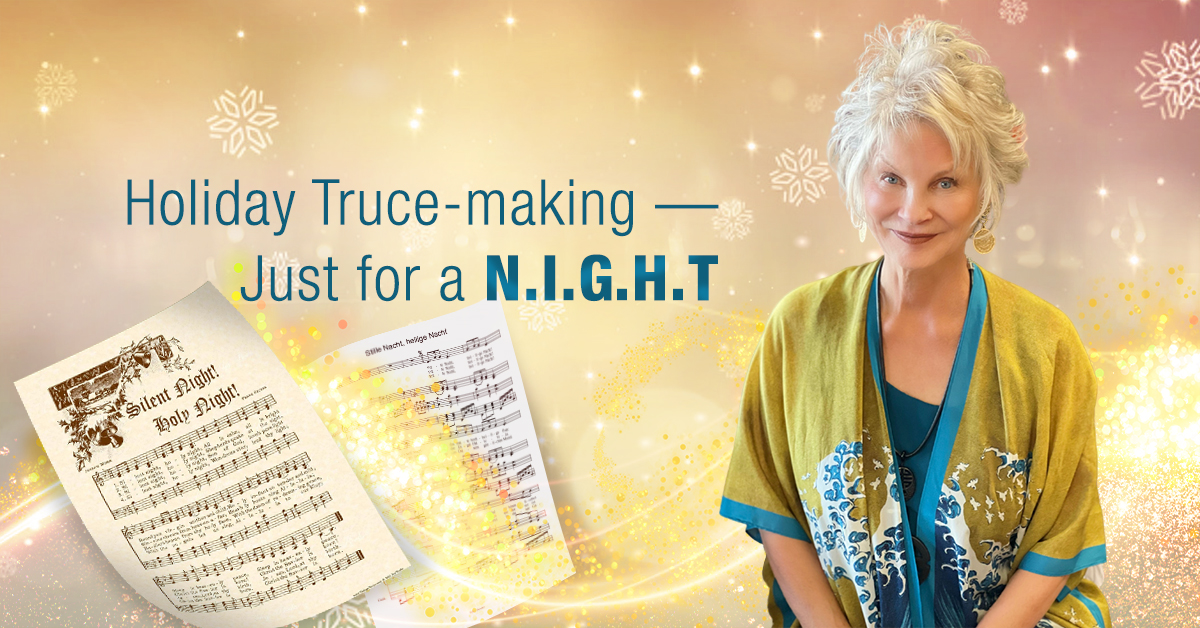 Have you seen the holiday meme that says "Deck the Halls" and in a finer font "…just don't deck your relatives?" As funny as the meme is meant to be, for some families, the holidays can be intense times where conflict and chaos abound. Calling a truce might be exactly what's needed.
A favorite holiday story is that of Silent Night and the truce it brought. As the legend is told, there were two countries at war during the Christmas season. Both countries celebrated the tradition of Christmas by singing Silent Night in their own native tongues.
A few nights before December 24, a lone soldier on the front lines of the war was first heard whistling the tune of Silent Night, which was then responded to by the sounds of a lone harmonica from the other side. The leaders from other camps realized how melancholy the troops were from battling, especially at this time of the year when both sides shared common values and traditions.
History records that a 24-hour truce was called — there was to be no shooting from sunset to sunset from December 24 to December 25, 1914. During this period, Silent Night was exchanged up and down the line of fire, first in one language and then the other. Troops even reportedly exchanged small gifts of cigarettes, canned foods, Kentucky whiskey, and German brandy.
How often are we at odds with one another?
Family, co-workers, neighbors, or entire countries can be set against each other - yet deep down we all share a common thread. Whether it's politics, healthcare decisions, LGBTQ+ divisions, or any other divisive thoughts, we are being called to offer a truce this season. Perhaps this story of Silent Nights offers us the formula.
Let's examine the acronym of N.I.G.H.T.
Narrow down a timeframe for the truce. How would your holiday season be different if you were to choose to employ one of the Reiki principles "Just for today"?
Just for today, I will love my neighbor.
Just for the 24 hour period, I will not judge?
Just for this week...
Just for this period of time, I will silence my thoughts of separation?
lnvite rest and connection. One of the best postscripts to this historical story is that a peace treaty was put into place very shortly after the 24 hour truce.
Yes, it's amazing when we consciously choose to invite rest and connection that something physiologically, emotionally and energetically happens. Once we lay down our weapons, we set up incredible dissidents within our minds and hearts. If we can be silent — still — for just a few moments our nervous system has time to reset. That's exactly what a Reiki session offers. It resets, relaxes, and readies us for a peace that passes our understanding.
If we agreed to not snipe at our family, coworkers, or those with different beliefs for even a 24 hour period, we will begin to be able to extend the time in which we are called to be the peacemakers.
Grace — The GRACE that comes from the smallest acts of kindness. The whistling of a simple song, the acknowledgment of shared values, small significant gifts — all of which lead to a truce and eventually a peace treaty.
GRACE is turning the other cheek, going the extra mile, giving up the need to be right, making relationships and connection the priority.
Are we the ones within our family, workplace, and even our nation that must extend simple acts of kindness so that the hearts and minds of others might respond with courageous acts of GRACE?
What is Grace? It's extending the first glance of unconditional care. It's being present to the person and not the politics. It's forgiving, second chances, and olive branches. It's daring to suggest a better way of being. It's being a better way.
Honor your deepest values above all else.
What are you being called to stand up for this holiday season? What war is going on in your mind or heart? Let's be the ones who offer the first healing sound … Silent Night …
Whistle it …
Whisper it …
Say it …
Silent Night … Holy Night … All is calm … all is bright … let's stop the fight …
Transform the hearts and minds of every man, woman and child …
Let there be a TRUCE this season like no other.
What if our focus is on connecting with those loved ones who you may not see often, or purely for the joy of their presence? The challenges could be reframed as a teaching moment about interconnectedness, and loving humans in their wholeness—imperfections and all! You can acknowledge difficulties and differences without them taking away your happiness.
All of this comes back around to the question: What can I control? Your intentions are powerful, and if you approach this holiday season with an open heart and a desire to love, your halls will surely be jolly.