A desire to learn healing arts, to refine the skills she already had, and to give her some new ones is exactly what brought Connie Gensamer to Southwest Institute of Healing Arts (SWIHA). Truly, she has always been on the path to healing work, however in early in 2014, she was introduced to a modality called The Reconnection by Eric Pearl. "I read his books and then had the process done. My feet were reconnected to the earth and my crown chakra reconnected to the cosmos as a way of reclaiming who I was and my life purpose. After the process, I really didn't know if things had shifted, yet three months later, I was looking for a school to teach me how to help people heal, and I found SWIHA."
Connie enrolled in the school and went on to graduate with an Associates of Occupational Studies Degree in Holistic Health Care with Concentration in Mind-Body Transformational Psychology with a specialization in Clinical Hypnotherapy and Spiritual Studies.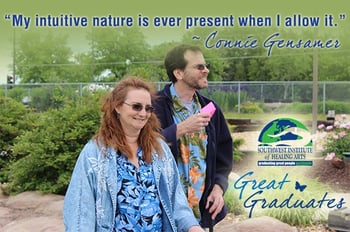 When asked about the most valuable thing she learned at SWIHA, Connie replied, "There is so much that I learned that to nail it down to one thing is very difficult, however, what comes to mind is to trust my intuition and that my intuitive nature is ever present when I allow it. I also found myself through all of the coursework at SWIHA." She felt that her passion for her studies developed slowly at first and then when she added Spiritual Studies all the pieces seemed to fall into place. "I am very passionate about inviting Spirit into my life and want to share that with the world (albiet quietly)." All of the things she learned fed her eclectic nature filling up her toolbox and rounding her out. "I am passionate about helping people move forward. I create space for them to see that it's time to soar instead of being stuck in the hazards of their lives. It is part of my life purpose and who I am."
After graduation, Connie went on to start her business, Open Minded Lives. "At Open Minded Lives, we honor your journey of a thousand miles, one step at a time. I am a catalyst for change. I want to help you co-create the life you want, move you forward, and help create positive and lasting change in your life." She uses a number of different modalities that can stand on their own however she likes to blend them together to create the perfect and unique healing package for her clients.
Currently, Connie is working out of her home in Rolla, Missouri. She is more than happy to see clients via Skype, Google Hangouts, telephone, email, and in person. She has discovered that she prefers in person, however has also learned that the other ways work too. "I started school with the idea that one day, I'd have a business. The real reason I started was to work on me. I figure the only way to heal the world is to start with ourselves, then it will ripple out to others. There are so many people that need help that it's my personal responsibility to at least try to get my name out to the public and try to serve humanity in a compassionate way that honors their journey." On the other side of that coin is that she was really tired of 7:00am to 4:00pm and working for someone else. "I am not a number. I am a living human that wants to do something profound to help others." She is still navigating the waters of having a business and admits that, "the most challenging part of starting a business is having confidence in yourself that you can and will be of service to someone else. The other is the lack or wealth of clients. Either one of those can be daunting. The easiest part is having options. I'm still working part-time at a job that pays the bills while I take a moment to breathe after school. I fully expect to go full on with the business as soon as all my paperwork arrives and I get the certifications in the mail."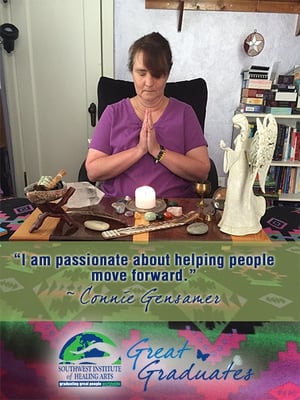 Clients start working with Connie by filling out an in-depth intake form. That usually gives her some great clues about the person and what they are looking for. Being a Toe Reader, she really enjoys looking at toes, too and can get a feel for who a person is and the path they have walked. Then she might look at a client's birth date because numerology can help give her even more insights into who they are and where their life path should be. She also uses somatic re-patterning which is a way of asking the body yes or no questions that help find where emotions are stuck in the body and helps to release or resolve those issues. This process often leads her to hypnotherapy where she uses guided imagery to help find out more answers and clear away anything left over. Sometimes she uses oracle cards for clarification, essential oils to deepen the experience, and flower essences to help create emotional balance. "I would be remiss if I didn't say that Spirit is present for all of it, every time from beginning to end."
After that initial paperwork is filled out, then Connie has a good idea of what direction the session might go. "I'll pray and meditate about the session inviting Spirit to be present. Then once we are face to face (or webcam to webcam) we will talk. As the conversation moves along, I will intuitively pull things from that conversation and ask more questions and see if a specific modality can help you clarify or resolve your issue. Once we are done, it is my hope that you leave a bit lighter, have a plan of attack, or a knowing that issues have been healed."
Most people that come to Connie are wanting to move forward with their lives. They see that they might be stuck, stagnate, or just in a rut that they wish to move out of. As of right now, most of her clients have been female, however she offers her services to anyone wanting that forward movement. When it comes to advertising, she admits that she hasn't done a bunch of marketing yet and plans to be using Facebook and boosting a few posts in the near future. She does have business cards and plans to start doing a few free hypnotherapy sessions via a link on her website.
Connie is always sharing what she learned at SWIHA during her sessions and says that it feels amazing. She even says that when she hears conversations out in the public, people talking about pains in the body… her immediate knee-jerk reaction is, "What emotion is causing this?" She does not think like she used to and when she works with people in sessions she feels a sense of gratitude that she showed up for classes and gave it her best. "I look back and look to this now and see that I am more refined and can truly help others to heal and help move energy for their higher good."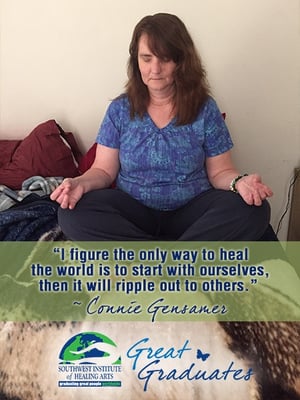 Many graduates feel that their SWIHA education has changed their perspective of self and altered the course for their future. Connie is no different and shared that "about 4 months before I graduated, I was picking up the home office and there was this moment when I felt into who I was in that moment. I quickly remembered the past and that moment, I knew that I had been changed. All of the work, all of the lessons, and all of the meditations/hypnotherapy all have created a new me. My husband says that today I am blatantly intuitive. I am calmer. I see when I am not living the right path and change it quickly. I am just so very different and I let Spirit lead. It's a wonderful new me and I hope others have had this same experience."
When asked to share a client success story, Connie was "actually yes… I do have a wonderful story. I worked with a woman whose mother died in the car that she was driving when she was about 17 years of age. She carried that baggage with her for over 20 years. She had been to counselors, therapists, and grief counselling. She arrived on my doorstep as someone to help me with homework. For 18 months (off and on) we did the work. Three months ago, she found her life purpose, flew to Oregon from Missouri to take a class… by herself. She now has a new modality through art that she loves, and she's helping others. She swears she couldn't have done it without my help, intervention, and modalities. When I tell her I was just a guide and didn't do anything except listen, she tells me that I did more than I think I did. As of today, she's my best success story."
Connie's message for SWIHA students and graduates looking to follow in her footsteps:
"Stay the course. ALWAYS show up. Never be afraid to ask questions… and ALWAYS be authentically yourself. If you agree with others, fantastic, if not, that's wonderful too – new ideas help others stretch their minds and learn that not everyone walks the same path. God (Spirit) is always with you, it is your awareness that is lacking."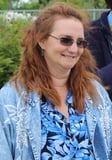 Stay in touch with Connie!