Georgia Nelson spent over thirty years in the medical industry and remembers, as a little girl, that she wanted to be a nurse when she grew up. While in this field, she noticed she always got pulled back in to dermatology. When her sister was seventeen years old, she was in a horrible head-on collision that split her face open, leaving her face severely scarred. Georgia shared how this trauma affected both of them. "When you're a teenager, damaging your face can seem like the end of the world." Though her sister continued to have surgeries and as a team of doctors worked to diminish the scarring, Georgia noticed a transformation in her sibling that inspired her to help others with their skin problems. She has wondered if this was one of the reasons she found herself working in the dermatology departments throughout her career. Georgia became intimate with her own physical struggles, as she was diagnosed with cervical cancer and then later, basil cell carcinoma. This struggle also made her passion for oncology and hematology grow, as she came out a cancer-survivor!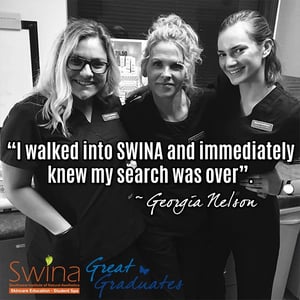 At the age of 50, the pull toward dermatology and skin took over. Georgia decided to take a leap of faith and follow her dream into aesthetics. Her journey began with searching for a beauty school in Arizona. She had four schools lined up to tour, and Southwest Institute of Natural Aesthetics (SWINA) was the first one on her list. Commuting forty-five minutes from Cave Creek, she showed up at SWINA and remembers this, "I walked into the school and immediately knew my search was over. The staff offered me a facial and that experience was the solidifying factor that showed me I was where I belonged. That was September, and by December, I was enrolled, going to classes, and graduated in June 2016 with a Natural Aesthetics Practitioner diploma!"
Over the six months in her program, this great graduate can remember how motivated she was to learn all the modalities that her SWINA program had to offer. It was her willingness to embrace change and the letting go of her fears that invigorated her to learn as much as she could. She shared with me, "I wanted to learn all of the modalities: microneedling, eyelash extensions, facials, chemical peels, and eventually microblading. By being open to all fields within aesthetics- like med-spa, spa, or entrepreneurial opportunities- this allowed me the freedom to let Spirit guide me to where I could serve best."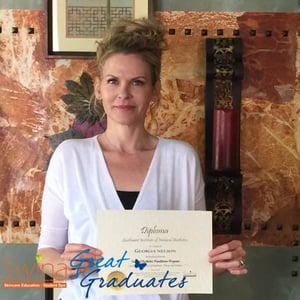 After graduation, Georgia was interested in microblading. Microblading is a technique that applies facial features with a thin blade, by inserting pigment into the top layers of the skin, commonly creating eyebrows for those with little hair or cancer patients who have gone through chemotherapy, and have no hair. This is done by hand with a feather stroke, and fit perfectly with her passion for oncology. One of her most treasured rewards is to make someone feel beautiful again. Georgia enrolled in an intensive two-day course, after networking on Facebook to find the perfect teacher. "I investigated the purest form of ink and sat in on local artists to scrutinize their methods and types of ink they chose. I found that this was a most welcoming community." I asked her how she got comfortable working on live models. She told me that there is an "imitation skin" that you can purchase and slide over a mannequin face in order to practice the technique. Only six weeks after the course ended, she searched for live models. She worked on family and friends first and right now, she has six women waiting for her!
She earned her Microblading certification in full, and through her diploma program at SWINA, she said it was the extensive hands-on training that makes her confident in everything she does in the aesthetics field. Furthermore, one of the most valuable things she received was the instructor's feedback and the way they challenged her. Her teachers also pushed her to think outside the box and in return, this has set her up for success in believing in herself and supporting her clients. She also recalled learning from Michael Shuey, the SWINA director: "He taught me that there is so much energy that passes during interaction with our clients on the table. They need release, and hopefully they do, and that's an energetic exchange. I find that to be sacred and this is what keeps me grounded if any fear begins to creep up. SWINA taught me that."
Thinking about her journey that got her to this place, she loves the evolution of skin. One of the most rewarding factors of this work, is watching the results of proper skin care treatments and the transformation her clients go through. "I have watched the skin move from lifelessness to vibrancy, and I have seen clients change from despair to elation, in both the medical world and aesthetic world. This is where my passion lies the deepest."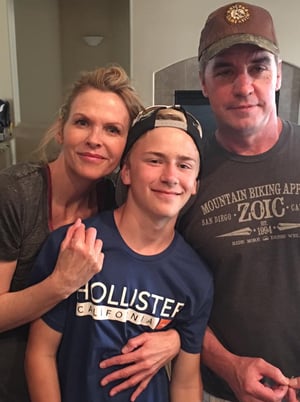 Georgia Nelson Aesthetics is her business name and she has just landed a position in Cave Creek with Francesca Fuller, who is a Permanent Cosmetics practitioner and Med Spa owner of Desirable Skin. Georgia will have her own room and will offer a variety of services from facials, chemical peels, microdermabrasion, and microblading, and more. She works with people of all ages: from teens with acne issues to skin with wrinkles and age spots. She can do it all!
Georgia is so grateful for the support of her family. She has a wonderful husband and son, her sister of course, and she and her mother are also very close. She was able to use her schooling to help her husband control his own skin condition, rosacea. Up until she found SWINA's natural products like Hylunia, Rhonda Allison, and EltaMD, her husband was fighting a losing battle with rosacea, despite the medications his doctor was prescribing. Georgia swears by Hulunia's Vitamin C treatment. She claims this is one of the best products out there for many skin issues, not just one. She shared with me how amazing it was to see her husband do the things he loved, like hiking or mountain biking or spending time in the sun, after his skin cleared up. The rosacea kept him from doing the things he was passionate about, and when she watched her loved one shift back to his most positive and happiest places, she knew in her heart that her leap of faith had and will always pay off!
You can find Georgia on Facebook, Instagram, and she is currently in the process of creating a webpage. For now, she has printed marketing tools around the Valley and can be reached in Cave Creek at Desirable Skin. When I asked this amazing woman what she learned most from her education, she replied, "Apply yourself when you're in the program. Ask questions. Volunteer to learn everything you can when you're there. Don't push off opportunities. Be true to who you are." However Ms. Georgia isn't done yet. She still wants to continue her education. Reflecting back to when she wanted to be a nurse at a young age, she offered me this insight, "Even though I thought I wanted to be a nurse since I was a child, I saw myself release this 'want' and my education at SWINA did that for me. This isn't about giving something up; this is about me stepping out of my comfort zone to grasp and embrace a career that I wanted after 'life' happened. This is where I'm at my fullest and most confident." In Georgia's own favorite words,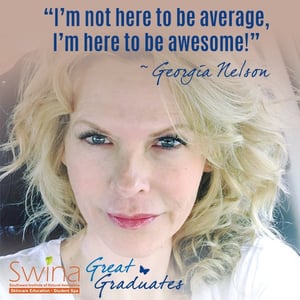 "I'm not here to be average; I'm here to be awesome!"
And that, she is.
Read this except on microneedling by Georgia, in her own words!
"I use a medical grade pen that has a sterile needle-tip containing 12 tiny micro-needles to create controlled micro-injuries to the skin. This initiates the skin's repair process to naturally produce collagen and elastin, ideal for smoothing fine lines, wrinkles, acne scars, traumatic scars, and stretch marks. Micro-channels created by the treatment allow for optimal absorption of topical products and Platelet Rich Plasma (PRP), enhancing their effects in the deeper layers of skin.
A small blood sample is taken from your own body and the PRP is separated from the other components. The PRP is then topically applied to the skin immediately following a micro-needling procedure. The micro-channels created by micro-needling provide direct pathways to the deeper layers of skin for optimal wound healing. Micro-needling with PRP application is an ideal treatment for smoothing fine lines, wrinkles, and scars or even increasing plumpness and overall rejuvenation of the skin.
Platelet Rich Plasma is a concentration of platelets in the blood that are vital to wound healing. When used for skin rejuvenation, PRP releases growth factors into the skin to expedite the body's own repair process and stimulate new collagen and elastin."
Discover how you can become the next Great Graduate of Southwest Instititue of Natural Aesthetics!