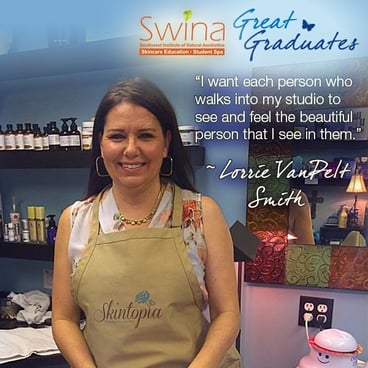 Lorrie VanPelt Smith confides that she struggled with acne when she was in high school and was always searching for things that worked. She found that many products and treatments were costly, and didn't always do what they claimed they would do. After working in the legal field for years, Lorrie admits that she felt burned out, so when a co-worker said she was looking into aesthetics, Lorrie felt like this could be a career path that would be challenging, as well rewarding by helping others achieve their skincare goals. And she was right!
"I am passionate about what I do, as I want each person who walks into my studio to see and feel the beautiful person that I see in them. There is so much negativity in our world these days, and everyone trying to keep up with the Joneses, that my passion is for my client to see their own beauty, embraces it, and love the skin they are in!", explained Lorrie enthusiastically.
After looking into the various aesthetic schools in the Valley at the time, Lorrie recalls that she was most impressed with the philosophy of Southwest Institute of Natural Aesthetics (SWINA). "I wanted to offer a natural, holistic approach to skin care. With the skin being the largest organ of the body, it is important to treat the whole body, not just the skin, and I feel SWINA gave me the tools to be able to offer that to my clients!"
Lorrie explained that her favorite class was the very first block, known as the White Block. The White Block consists of 224 hours, comprised of learning all about the skin. A lot of what the state board licensing exam covers is included in this first exciting section of the curriculum. It's designed to give students a solid foundation on which the remaining classes build upon, including how to thoroughly analyze a client's skin. It puts into perspective why certain treatments are done, what the benefits to the skin will be, and any contraindications that a skincare practitioner will need to know in order to practice safely.
"I love learning how to give an effective massage, along with the all the essentials to giving a professional facial," glowed Lorrie.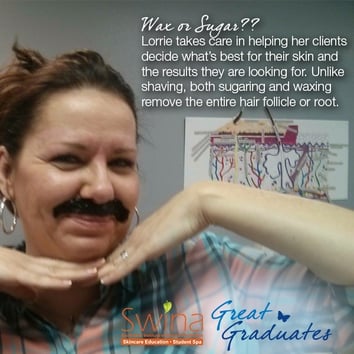 Due to the fact that SWINA grew out of the award-winning massage college, Southwest Institute of Healing Arts, there is a big emphasis on learning effective massage techniques for the neck, back, hands, arms, ear, and even the feet. Many holistic modalities are included in the curriculum, including reflexology, aromatherapy, some Cranial Unwinding therapy, and Reiki facial massage.
When asked if there was one teacher that influenced her most, Lorrie reported, "All the teachers were so awesome! Each one shared their passion for skin care – it is difficult to choose a favorite. The teachers went above and beyond in explaining each technique and the many products we were exposed to during our training. I loved that they were open and shared their experiences with the class so that we had a better understanding of the subject being taught and how to apply our newly gained knowledge in the real world."
Upon graduation Lorrie Smith jumped head first into the real world of entrepreneurship by opening her own skincare salon called Skintopia, with the branding tagline of: Experience True Paradise for Your Skin.
Skintopia, located in south Scottsdale, specializes in offering clients personalized, result-driven treatments, while educating them on products, their ingredients, and procedures that will help the skin look radiant, healthy,and glowing. Lorrie explains, "I believe that beauty is about enhancing your individual beauty. I analyze and think about my client's skin,not just because it is my job, rather because it is my PASSION. I want people to LOVE their skin!"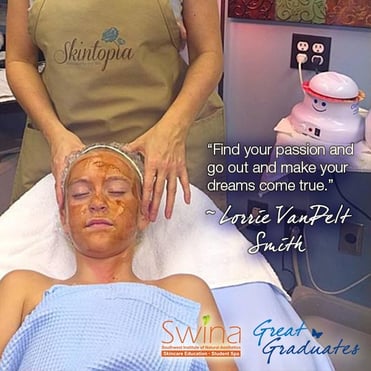 According to Lorrie, one of the most valuable things she learned while attending SWINA that has carried into her practice, is to respect and honor each individual person who enters through the door requesting service. Deeply committed to her clients, Lorrie explains it this way: "Treatment of the skin goes beyond the skin: it goes into the entire body and soul! Taking the time to really listen to what my clients have to say and always giving my best to each customer, is what I strive for. I am honored they trust me with their skin care needs as I recommend services and products. I never over-promise what the results will be, yet I do intentionally try to provide the type of service that will be more than what they expected."
True to her roots of personal experience, Lorrie offers an Acne Facial to aide in the healing of breakouts and possible lesions that may have left the skin inflamed and sensitive. She uses a gentle, clinically effective treatment utilizing powerful enzymes, extractions, high frequency, and a calming mask to assist in unclogging pores, soothing inflammation, healing existing lesions, and preventing future breakouts.
Lorrie talked about her 'success story', which is about one of her clients: "A few years ago, I had a young man in his 20's referred to me. When he first walked in, I thought, "Oh dear, he needs to see a dermatologist," as he had grade-4 acne. The young man had no insurance and did not make a lot of money. I have worked with him over the past two years; he has been wonderful with his home care regime and I am ecstatic to say that his acne is under control and has cleared up. His acid mantle (which protects the skin of good things getting out and bad things getting in), had been severely compromised by using the wrong skin care products. It is so awesome to see his confidence grow as his skin cleared, and I always look forward to seeing his enthusiastic smile each time he comes in."
On Lorrie's menu of services you will find Men's Facials and Back Facials. She did mention that often it is her male clients who do choose to receive a back facial, which is a purifying treatment that includes deep cleansing, steam, exfoliation, extractions, a specialized mask which is applied to the back, and several warm towels.
The salon's services include dermaplaning, microdermabrasion, collagen induction therapy, chemical peels, LED light therapy, and sugaring.
Lorrie is very focused on helping her clients decide what's best for their skin and the results they are looking for. Unlike shaving, both sugaring and waxing remove the entire hair follicle or root. She teaches her clients that with consistently, meaning a treatment every three or four weeks, the hair can begin to take four-six weeks to grow back. The hair that returns will be much thinner and finer with smaller, more shallow roots. Over time, the follicle will no longer produce a blood supply which means hair removal will become permanent.

One of her newest services is the Collagen Induction Therapy, which is done with micro-needling. By pricking the skin with tiny, precisely placed needles, the skin's response is to produce collagen as part of the healing process, which helps the skin look and feel firmer. To enhance the micro-needling process, Lorrie applies highly concentrated and potent beauty agents to the skin, often using a Rhonda Allison* Skincare serum.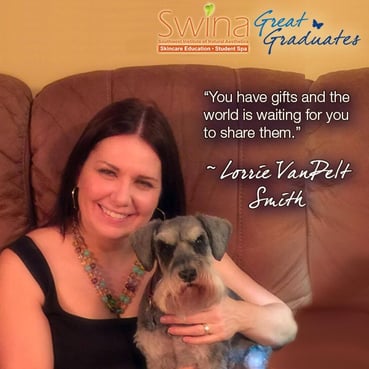 *Rhonda Allison is one of the product lines Lorrie learned to use while in school. It is a high-end, professional grade skincare line that provides cosmeceutical skin care products to licensed aesthetic facilities and not directly to the consumer. Rhonda Allison uses only pure, fresh, natural, quality-driven ingredients that deliver maximum results! No dyes, artificial coloring, or artificial fragrances are used in the products. Essential oils and the scent of plant extracts provide the products' aroma and any preservatives used are either essential oils, plant derived, or safe FDA approved ingredients.

When asked what message she would have for other new SWINA grads who hope to follow in her footsteps, these were Lorrie's words: "Find your passion and go out and make your dreams come true. Do not let fear stand in your way. If you stumble or fall, get up, brush off the dust, and get going again. You have gifts and the world is waiting for you to share them."
Lorrie's business located at 3501 N. Scottsdale Road in Scottsdale, Arizona, within in the office of James E. Bertz, DDS, MD, FACS
You can reach out to Lorrie through her website.
---
About the Author, KC miller
KC Miller has been a go-getter for over 40 years and a true pioneer as a Holistic Entrepreneur. As a longtime massage therapist, reflexologist, Reiki Practitioner, Life Coach, Toe Reader and Ordained Minister she knows firsthand that you can create a business out of thin air with purpose and passion. Her original motto was: Let me be an instrument in the peace and healing of others. From her private practice KC grew the awarding-winning nationally accredited private college, Southwest Institute of Healing Arts. The mission statement has changed to reflect with even more passion KC's commitment to holistic entrepreneurship: "We inspire individuals to discover the gifts and graces and support them in taking their skills into the world in a loving and profitable way."