Kevin Williamson had been working the 9-5 daily grind for ten years. Employed in the credit card department of a financial institution, his life was beginning to feel like the Bill Murray movie Groundhog Day. "I felt no real personal significance in the work I was doing," he shares candidly. His job involved sitting at a desk and staring at a computer screen for eight hours a day with minimal security; the very real possibility of lay-offs lurked around every corner.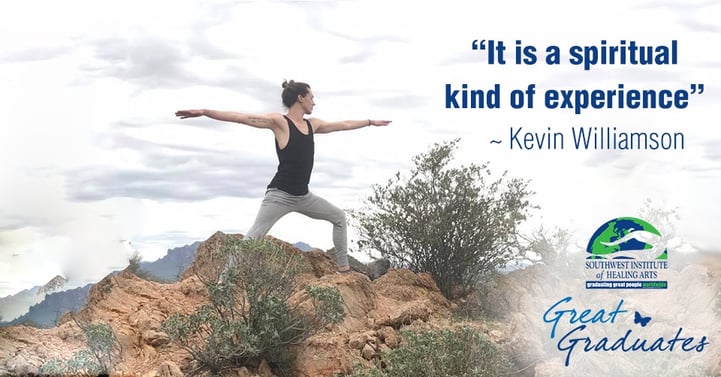 Kevin was feeling discontented, frustrated, robotic, and unhappy with how he was participating—or not participating—in his own life. Ultimately, this led to a mental and emotional burnout. Looking for options, he sought out hypnotherapy. His hypnotherapist was a graduate of SWIHA and ended up sharing information about the school. Kevin had heard of SWIHA previously and decided to take an opportunity for self-healing and self-discovery by attending a Gifts & Graces event for the first time. This kicked off a huge personal shift. "I knew I had to leave corporate America and discover different modes of thought, health, and well-being," Kevin discloses. Every day had felt the same for a decade. It was time for a change.
Making the decision to go back to school was a big one, yet it came surprisingly easy for Kevin. When he walked into SWIHA, he thought he was just going to talk to somebody and ask questions. "I loved that the admissions advisor I spoke with was a Life Coach as well. She helped me get clear on the program that was really calling me. It was the 750-hour Professional Massage program! Although it was a little bit of a surprise, I realized that there was something calling me to touch people in a whole new way! The drive home was just surreal. I could hardly believe I had made a decision that would change my life forever, and yet I was very excited!"
The idea of becoming a licensed massage therapist was new to Kevin, and so he had no idea what to expect when walking into his first class. "I wasn't sure what kind of therapist I was or would become. At SWIHA, there are some required core classes, and then you get to choose how you want to express your gifts. There is so much to choose from. Initially, the feel good stuff is what drew me in," he reflects. "It is a spiritual kind of experience. Receiving massage is a sometimes vulnerable experience! I absolutely love that we were taught how to 'hold space' for each other– to create a 'safe space' from which to heal, transform, and grow forward!"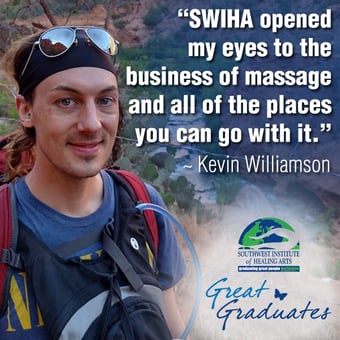 In the SpaLomi class, taught by Lance Martinez, Kevin found the foundations that would shape his identity as a therapist and inspirations for future business ideas. He had always loved receiving Lomi Lomi massage, a Hawaiian modality consisting of long flowing strokes spanning the length of the body. Kevin explains: "It is very flowing and dancing, very yoga-like. In fact, you have to put your body in different yoga poses doing it. I really relate to it!" Kevin is planning a trip to Hawaii to further immerse himself in all aspects of the Traditional Hawaiian Lomi Lomi culture, seeking to further understand the spiritual aspects of this amazingly deep modality.
Early in Kevin's program, he was introduced to Polarity Therapy and the Polarity Communications class taught by Gary Strauss. The class bridges the gap between what you do, how you explain what you do, and how you receive what you're energetically hearing and feeling from your clients. "I think a lot of students struggle with the communication piece. They may be great at doing massage, for example, yet the connection and communication can be lacking. Polarity Communications was ALL about effective communication and listening; how you can listen to what someone is telling you verbally and non-verbally," Kevin states. "It was an amazing class. I look back to the activities we did in the Polarity classes and realize how I now apply them to my personal life. What I learned has positively affected how I relate to family and friends. It brings a whole new understanding to why I was drawn to the massage program! I sought to find something where I felt a personal significance and satisfaction in the work I was doing. I found it! I now understand the SWIHA motto of learning to touch lives, heal bodies, and free souls! I do this every day, whether serving someone on or off the massage table."
At SWIHA, the instructors are practitioners as well, and Kevin found that his eyes were opened to new possibilities by their ability to share their experiences with their own private practices. He learned that you aren't limited to just one avenue in which to practice as a massage therapist. There are many opportunities, including working for a large resort, a small boutique spa, a chiropractor or naturopath, or starting your own private practice. "SWIHA opened my eyes to the business of massage and all of the places you can go with it."
In many of his classes, Kevin learned how emotions are stored in the body. He also got to experience this for himself through the hands-on work he was doing in class: "When you experience it—when you experience an emotional release from massage or bodywork for the first time—it just brings it home. You realize that, yeah, this really is a real thing! My body is connected to my mind… and my spirit!"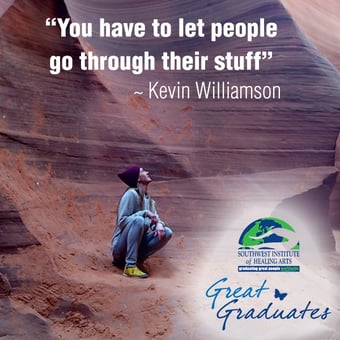 After completing the massage program, Kevin was drawn to the 200-hour Yoga Teacher Training Program at Spirit of Yoga, where he realized the amazing connections between the two programs. "For me, yoga continued to bring the spiritual aspect of the body-mind connection to my awareness. Everything I was learning was completely eye-opening to me and life changing! As it turned out, my body was very flexible, and I could easily move into the physical poses. What surprised me was how much more flexible and open I became in my thinking and how much more compassion and non-judgment I developed for myself and others!"
It was in the YTT program that Kevin really connected with Shelley Tom, SWIHA's Dean of Students, a fellow yoga student. From this divinely appointed connection, Kevin's next huge step in transformation began. He had just reached out to Shelley about starting SWIHA's 1000-hour Master Massage program, and after getting to know him in class and being so impressed with who he showed up as, Shelley brought up the fact SWIHA had a position for a Student Adviser for the massage program opening up that she wanted him to consider taking. "I had not even thought of pursuing employment at SWIHA," says Kevin. "However, when she mentioned it, I thought, 'How awesome would it be to work at this wonderful place where I went to school?' It was strange leaving the place I had worked for ten years, yet it was oddly seamless. I owe it all to how I showed up in yoga. I knew the answer was 'yes' right away, even though I asked for the weekend to think it over."
Kevin is now the Student Adviser of SWIHA's massage programs, helping usher students through the same amazing experiences he so recently went through himself. When asked about the kind of advice he gives to students, he confides, "It's not about giving advice. It's about helping people discover their own answers within! I believe many of us come to SWIHA to heal ourselves so that we may provide a foundation within ourselves to facilitate and allow healing in others. You have to let people go through their stuff. It is more about listening. Less talk, more listening." He shares that the things he has learned from the Polarity Communication classes have been invaluable in preparing him to serve in his current position. "Knowing how to communicate, listen, perceive, and receive is what I learned in class and now do in my new position of service!"
Kevin's transformation doesn't end there, though. You will soon be able to book a massage with him as he becomes a licensed massage therapist serving in SWIHA's Massage Clinic. In the future, be on the lookout for getaway retreats he will be facilitating as well!
Kevin wishes to share the following insight with current and future SWIHA students: "Learn where your limitations lie so you may move beyond them and create a powerful shift in your life! A breakthrough can only happen when you've realized where you've struggled or held yourself back. Be open to your journey"!