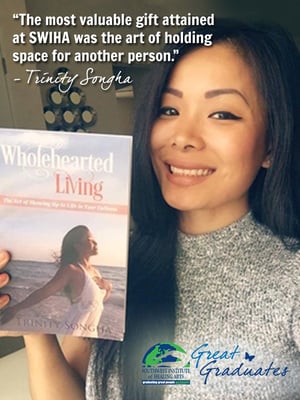 Prior to attending the Southwest Institute of Healing Arts (SWIHA), Trinity Songha was a certified 200 hour yoga teacher from Seattle, WA. When she moved to Arizona in August of 2011, she decided that she would further her training in yoga teaching by enrolling in the 800 hour yoga program at SWIHA and she is very grateful that she did.
Trinity went on to graduate from 2 major programs at SWIHA. She completed the Yoga 800 hour program in May of 2012, and several months after graduating, she re-enrolled in the 1000 hour master massage program and completed it in April of 2013.
During her time at SWIHA, Trinity felt that she had many favorite classes. Few of which were Myotherapy, Aromatherapy - 5 Element Acupressure for Emotional Healing and Transformational Life Coaching. She liked Myotherapy because it was one of her favorite modalities to give and receive, and she liked the other two because they were transformative – both personally and professionally. One of her most favorite teachers was Pam. She had her for Anatomy and she made the class both fun and educational.
Trinity's passion developed initially from a desire for personal and spiritual growth, and she grew passionate about her work through discovering the gift of healing.
After graduating from the massage program, Trinity had her own practice for a few years and the name of her business was Trinity Healing Studio. Her business was located in the Arcadia area of Phoenix, AZ. The opportunity of entrepreneurship as well as her passion in providing healing is what led her to start her own business. She had a beautiful massage studio for her business inside of a wellness center. She offered a wide variety of modalities including Swedish, deep tissue, myotherapy, thai massage, trigger point and reflexology. She also taught yoga classes for other businesses/studios. She considered each encounter with her clients to be therapeutic and healing. She grew her clientele from personal referrals and yoga students. She discovered that about 60 to 70% of her clients found her through Yelp, thankfully to great Yelp reviews. She felt that her sessions were holistic and transformative because of the knowledge learned from SWIHA. The most challenging part of starting her own business was overcoming the resistance to business and promotional tasks such as building her website, creating brochures, business cards, and promoting myself via social media. However, once it is all done and launched, it became easy. "I believe the resistance comes from a fear of the unknown or the unfamiliar, after I took the actions and move through them, the fear gradually dissolved."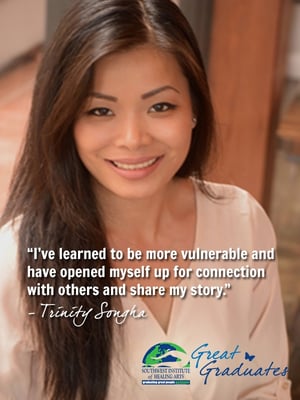 Trinity recently wrote and published her first book "Wholehearted Living; The Art of Showing Up to Life in Your Fullness". She recently closed down her business her in Arizona and moved to Florida in March of 2016. "SWIHA has inspired me to explore my own greatest potential." Currently, she is developing herself as a writer and will be taking classes and workshops on writing and expanding her creativity.
As Trinity took time to reflect on her time at SWIHA, she recalled that "the most valuable gift attained at SWIHA was the art of holding space for another person. One of the things I loved about classes at SWIHA is the safe space to share. Through those sharings, I've learned to be more vulnerable and have opened myself up for connection with others and share my story."
Trinity's message for SWIHA students and graduates looking to follow in her footsteps:
"The meaning of life is to find your gift. The purpose of life is to give it away." - Pablo Picasso
Stay in touch with Trinity!