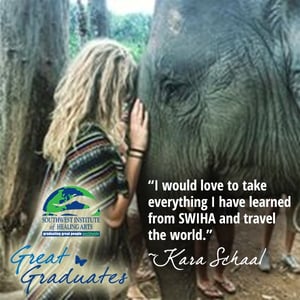 Kara Schaal had been feeling led to go back to school and she knew she wanted to do something holistic. She just wasn't sure exactly what path to take. A friend recommended checking out the Southwest Institute of Healing Arts (SWIHA). After researching different programs and talking to one of the guidance counselors, Kara felt that SWIHA was the best fit for her to begin her journey!
Kara enrolled and graduated as a Holistic Wellness Practitioner. "I was so blessed to take my program during a stressful time in my life. I cannot really pin-point the most valuable thing I learned because the whole experience taught me so many great things. The program helped me grow spiritually and become secure with myself. I learned many great nutritional values which I have incorporated in my life for a much healthier lifestyle!" Through the program, she was able to determine exactly what she wanted to do. Looking back, it was a process she greatly admires. She has a blog now that is mainly life coaching tips incorporated with holistic nutrition and energy work. Moving forward, she knows that she wants to incorporate traveling into her business, and that is her next step. "I would love to take everything I have learned from SWIHA and travel the world! It would be wonderful to learn more from various cultures and help people in different countries be their best-selves, while also sharing holistic tips I have learned along the way! I have always been very connected to energies and the holistic way of life." Based on these teachings, Kara shows up authentically to better serve her community.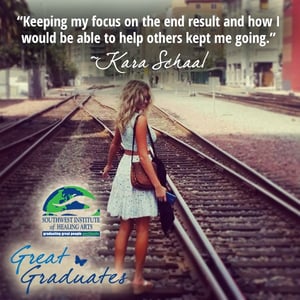 Soulistically Happy is the business that Kara launched after graduation. As of now, she has a blog where she posts inspirational written content, conscious videos, & live events. The modalities she offers her clients are the same as her blog focus: Life Coaching, Holistic Nutrition, and Reiki. "I love energy work and healing people through this ancient holistic system for balancing and personal growth." Her business is currently located in San Diego. She made her studio apartment into an office and plans on going global starting next May.
Sometimes Kara meets clients at coffee shops or the beach since she is blessed to live in Sunny San Diego. She was going to get an office however now, since she is planning on going global, she is saving all that money for her big move and life change. As of right now, she offers life coaching sessions, group life coaching sessions, Reiki sessions, and eye lash sessions. "I feel deeply led to work with women so I traveled to Arizona to get certified in eyelash lifting and tinting. When women come to see me, they are able to talk to me and have a life coaching session while I do their lashes so they usually leave looking better and feeling better."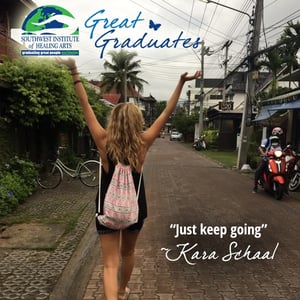 Through the Business Development & Entrepreneurial Support classes, Kara was taught to ask herself a very important question: "What do you really want?" This made her realize that she can do whatever she wants and have enormous potential. "There are no limits, and we dissected different aspects of where we wanted to take our business. We were encouraged to release fear of things that we really wanted or that we thought we couldn't achieve. I am clearer on where I want my life to go, and I am way more motivated and confident it could go there!"
Kara's message for SWIHA students and graduates looking to follow in her footsteps:
"Just keep going. Sometimes you are going to want to give up, and to be honest some people in my class did; don't be one of them. Finish the race. You are here at this very moment for a reason, most likely way bigger then you know."
Stay in touch with Kara! www.soulisticallyhappy.com | Facebook | Instagram