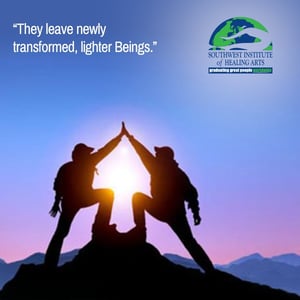 Most students who have signed up for Transformational Yoga Coaching (YO-506), show up Friday night at Southwest Institute of Healing Arts thinking, "I'm not sure what this is all about, however, we get to go hiking and do ceremony with the owner, KC Miller!" While this is a fair statement, what makes this work so powerful is the fascinating correlation between the body's physical messages (ie, pain, tension, or disease) and the ancient metaphors within the asanas, or yoga poses. Coaches learn to master the Inquiry, or facilitated dialog, which brings awareness, release, and healing to their clients. In TYC we call the coach the "Guide" and the client the "Seeker".
My personal process with this type of coaching has been very cyclic. First, I was in the seat of the student, then the seat of the teacher, and then back to the student and back to the teacher, and well… you see the pattern. What I have learned is that the student is the teacher and the teacher is the student. There is always something to learn and the beauty in my opportunity to teach these classes, which happen twice a year, is to be a witness of the cosmic union between students. They arrive together, learn this work by coaching each other, and then they leave, newly transformed, lighter Beings. There is always an energy between the classmates that is unique and special to their own experience and it is so rewarding to be part of it. To watch a person's eyes literally lighten and spark with new exuberance, after just a few sessions, speaks to the importance and effectiveness that transformational yoga coaching offers.
I remember the first time I took this class, I was blown away by its precision. It left me in awe of the intelligence of the human body. It goes something like this: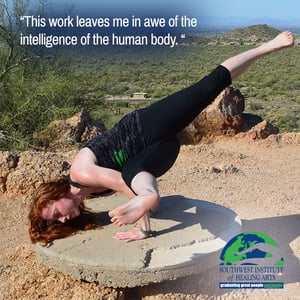 Imagine an obstacle in your life. Your Guide will put you into a yoga pose or a series of poses. Next, you close your eyes and begin answering questions your Guide presents to you and without agenda, your body gives you the answers in a way that clarifies the debilitation behind your obstacle. This last class in March 2016, I was the demo with new lead teacher, Kate Shipp. I did not know I was going to be doing a piece of work in front of the class until right before. I sat down in center circle of the students, as the Seeker, closed my eyes, and "randomly" (was it really?) picked anger to work around. I was not aware; apparently I was fiddling with my neck the entire time. At least twenty minutes went by, and then Kate asked me if I felt anger in my body, and if I did, where was it? Once I had acknowledged that I felt it in my neck, I made the connection that I had had a stubborn kink there for weeks! Kate allowed me to bring up my neck on my own volition: even though she knew there was significance in that part of my body, she didn't know it was about anger, so she didn't put that in my head. This made the experience organic and not implanted. The next step, she put me into a pose on my back where she was able to traction my neck. After my recognition of this anger storage center, a few deep breaths, and a couple questions around why that anger might be there, the entire knot released! Even though I'm in my third year doing this type of coaching, I still found myself in awe and shaking my head in disbelief. Don't tell Kate - I kept trying to feel that pain again by bending my neck in different directions. I did not find it, because it was not there. The anger had been addressed and released, and therefore the pain had been, as well.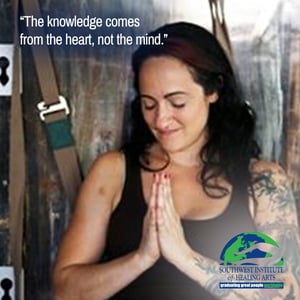 While not mandatory, it really helps to have a background in yoga and life coaching, and I highly suggest Southwest Institute of Healing Arts' Yoga Teacher Training (YTT) program, as well as the Life Coaching certification. Separately, these are powerful tools that can assist in the clarification and clearing of issues that keep us in ruts or in negative patterns. TYC is a class designed to teach the step-by-step process of working one-on-one with people, using the hidden language that resides within hatha yoga. Students are taught how to extract meaning from the dialogue they hear from their partners (the Seeker). For example, if a client speaks of their fear of moving forward, the Guide might put them in Warrior III, which is a balancing pose on one leg, where the opposite leg is parallel to the floor behind them, and the two arms are outstretched in front, with the palms facing each other, as if reaching for an opportunity in the future. The Guide might ask, "What are you feeling in your body right now?" There is no wrong answer or limit to acceptable responses.
Many times the client will not even know they are in fear, guilt, or shame, until they get into the pose. These negative emotions can get stored in the body's tissue, resulting in a mask of pain or disease. The verbal coaching of this modality will shine a spotlight on the issue and the physical movement will offer insight, often in form of answers. If that is acknowledged, then the session's questions can continue in a direction of purposeful inquiry to which the Guide sees fit. The beauty of this process is that it takes on a life of its own: no need to overthink or over-plan. The knowledge comes from the heart, not the mind.
Learn more about how you can teach others to overcome their obstacles and find their purpose with SWIHA's Yoga Teacher Training programs. Register for Transformational Yoga Coaching.