Stephanie Parejamaas decided to have a shift in her career field from Marriage and Family Therapy to Life Coaching. She wanted to create a different space to work with her clients in, based on their goals in creating the life they want. "I wanted to focus on their future looking at what they can do today, in order to truly achieve their goals. When I found the Mind-Body Wellness Practitioner Program at Southwest Institute of Healing Arts (SWIHA) I knew it was what I was looking for." It spoke to her on all levels and she was thrilled to feel the shift in her career. Now she has been providing Life Coaching services through her Live Happy Wellness practice since 2015.
The life coaching tool that Stephanie values most is a powerful follow-up question. "I think a great question can really open up the thought process for a client and allow them to dive into themselves and discover what they may have been overlooking before. This can lead to change or embracing their self-discovery."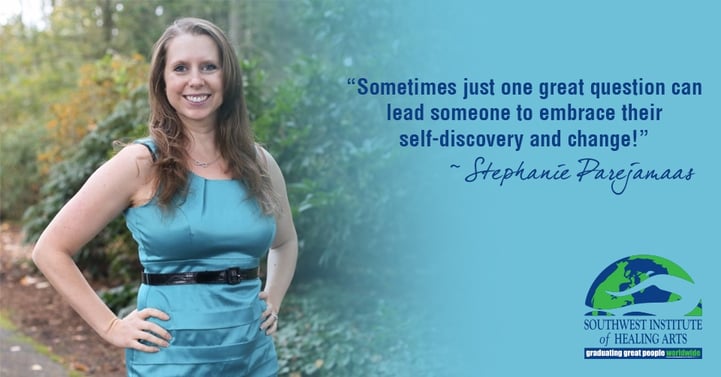 Stephanie finds that she gravitates towards relationship coaching. She works with all kinds of relationships including the self, life partner, extended family, friendships, dating, and co-workers. Performance enhancement is another area she was pulled towards. She feels that others really want to provide their best self in whatever they are investing their time in, whether it is their career or hobby; however, they may find themselves getting in their way. She works with her clients to allow themselves to shine and embrace all they have to offer. A favorite quote that Stephanie uses is one from Jim Rohn, "The MAJOR key to your better future, is YOU!"
 For students considering the Life Coaching program, Stephanie urges that this is the time to listen to your gut and follow your passion. "If something is speaking to you… follow its lead. The passion exists for a reason… there are clients waiting to receive what you will offer them. You will also get to experience the joy and excitement as others unlock their potential and release what they have been holding inside of themselves." 
Stephanie keeps her passion for coaching alive because she believes that everyone can have the kind of relationships and life they want to have! And they can start creating that reality right now. They do not have to wait until tomorrow when they start taking action today.
SWIHA supported Stephanie's journey by asking the questions that nudged her to take a closer look at a deeper level and work through the obstacles that she was allowing to decorate her path to her career goals. "I also felt encouraged and that my instructors believed in what I was doing and my ability to provide a quality service to others."