India Lee Benedetto, also known as India Bee, made her way to Southwest Institute of Healing Arts (SWIHA) at the perfect time in her life. She officially began her studies at SWIHA in the Yoga Therapy program in 2011 after she had connected deeply to yoga eleven years prior, just as she was graduating from Arizona State University and was preparing to live abroad for the first time to work as a Peace Corps volunteer in the countryside of Bolivia. Shortly after her arrival, a fellow volunteer went missing and was never found. Less than nine later, 9/11 shook the world, and everything changed. "Through all of this transition and unrest in the world, yoga is where I found myself again and again."
India knew she wanted to do something in the field of yoga which allowed her to share her passion with others, yet she just didn't know how to make that happen. So she began building a career in corporate America where she worked to diversify law school classes and law firms and empower women, globally. After traveling on business to Washington D.C. and then to Peru, she returned home after three weeks to an unsettling feeling. She decided the life she had created was not in alignment with her values, and it was not sustainable for her. Just one year later, she found the courage to make the decision to embrace and walk her destined path.
As Yoga Sutra 1. 1 says – And NOW the teaching of yoga begins.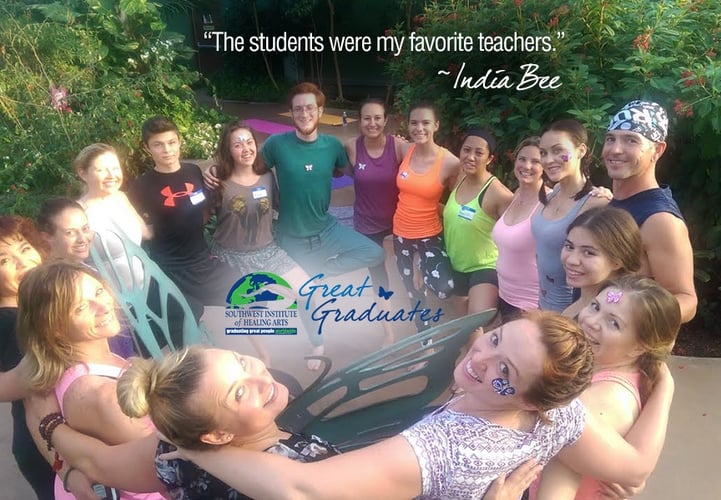 India considers herself fortunate to have completed her 200-hour Yoga Teacher Training (YTT) under the guidance of Laura McKinzie, at Spirit of Yoga (SOY), the educational yoga facility and studio with Southwest Institute of Healing Arts (SWIHA). After she completed her 600-hour training, she was offered the unique opportunity to sit beside Laura, assisting in the education of hundreds of yoga teachers-in-training, for three and half years. She views this time as an apprenticeship that most yoga teachers rarely have the opportunity to experience, and for this she is very grateful. "It was these years where I learned the most, not only from Laura, yet also from the hundreds of students I had the honor to hold space for, as they too, just like me, completed the journey of their 200-hour yoga teacher training. The students were my favorite teachers."
A priceless morsel of wisdom that India holds dear from those years of studying and teaching at SWIHA/SOY, is the practice of letting go:
"I learned to let go of what other people thought of me. I, in turn, must let go of how I think other people should behave. I had to let go of perfectionism and my attachment to outcomes. Once I let go, I was shown how to allow, trust, and accept."
The teachings of yoga call this ishvara pranidhana, or surrendering to something greater than ourselves. Coming from a background of abuse and other intense life experiences, like being mugged in South America, India had a lot of unresolved trauma that she needed to work through. During her Yoga Therapy program and the years to follow while teaching and continuing to practice and learn, the level of healing she experienced was transformational, and it positively changed her overall health, her relationship with herself and others, and her quality of life.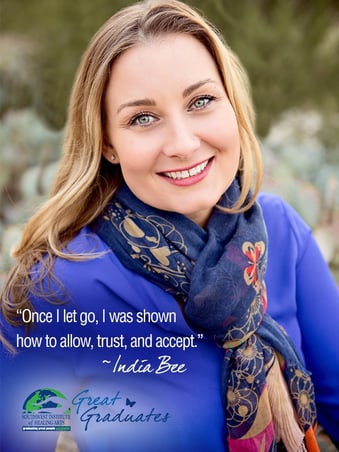 This is why India is so dedicated to teaching and practicing yoga, because she experienced its effectiveness and power to promote healing in the deepest of ways: she knows it works. "I'm passionate about what I do, because it's in alignment with my values, and I've experienced and witnessed the healing shifts this practice can create, first on a personal level, and then to the collective. This is what gets me really excited – the ability to begin to make larger shifts, globally, toward peace, equality, and justice for all, including our planet."
India launched her own company, India Bee Yoga, LLC in December of 2012 because she strongly feels that there is a lot of work to do, and she is ready to serve. When she was in corporate America, she saw first-hand how debilitating the competitive business world was on herself and her colleagues; she witnessed the devastating ripple effect it had on the bottom line of businesses and health care costs, and then there was the rise of pharmaceutical drugs to treat the widespread depression, anxiety, and apathy. It was this experience that fueled her drive to contribute to a more sustainable and healthy world. In hindsight, if she had chosen to enter the yoga field before corporate, she never would've had the experience of seeing the devastating condition millions of her fellow Americans are in; what a blessing it turned out to be, that she "didn't know" what to do with yoga after her experience in Bolivia. Her heart and soul knew, perhaps her brain was late to the party. Yoga is a catalyst that allows you to tap into the depths of soul-knowing, and in that peace and stillness, grants us access to hear its whispers.
Shortly after launching India Bee Yoga, she knew somewhere deep down that she needed to attend the Global Action Summit, which was hosted by a non-profit organization called, Off The Mat, Into The World. The work of this organization and the individuals involved spoke directly to her soul. These women and the community taught her how to turn her wounds into words and her anger into conscious action. "I finally had the tools I had been missing all along. It was time for me to go back out into the world and do my work – only this time in a sustainable way. Every action I take comes from a place of self-love. It all starts and ends with a strong practice of self-care."
A message India frequently shares with students is that this practice is not something to be achieved, rather it is something to be received.
"The practice of receiving is many times more difficult than giving and for many of us, the habit of constantly go, go go, until we are depleted comes more naturally. If we're not taking care of ourselves, we have nothing to offer others. This is why it always has to start and end with us."
Today, she is privileged to be a regional leader for Off The Mat, Into The World and has the honor to collaborate with her partners in facilitating small group leadership trainings called 'Yoga In Action', which aim to create community around yoga and service through deep self-inquiry and leads to action within communities and the world.
India Bee Yoga has a strong commitment to giving back and what she feels most passionate about is the environment. You can find her teaching weekly "Yoga in the Rainforest" classes which are held inside the atrium at Butterfly Wonderland, located in Scottsdale, AZ, where she has the privilege to practice yoga together with students in a tropical setting amongst thousands of butterflies!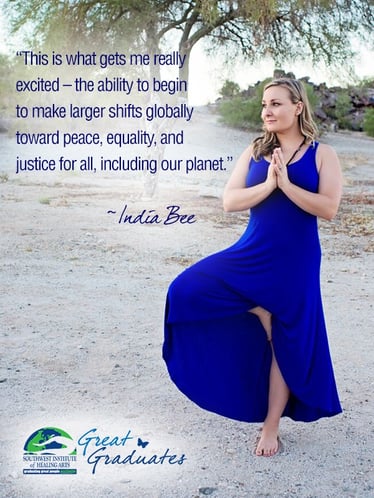 The proceeds from those yoga classes go directly to the Butterfly Wonderland Foundation which is doing wonderful work, including educating children and adults about the importance of our pollinators and rainforests. Did you know that 1/5 of the oxygen we breathe comes from the Amazon Rainforest? That's every fifth breath we take! India considers herself a "tree hugger" for life.
In addition, she has a small home studio called Studio Bee where she sees clients for yoga practice, yoga nidra, and gong meditations, and she travels to corporations that value mindfulness practices as part of their benefits to employees.
Travel is also a passion of her's and she feels that travel has opened her eyes and her mind in ways nothing else can, so she has partnered with a long-established, high-level tour company to offer yoga + travel experiences.
India's practice of yoga is to stay in the present moment, however, as an entrepreneur and business owner, it is important to plan ahead and she is continually looking for ways in which to expand and grow her business. Her suggestion for other entrepreneurs is to stay in the present moment, and have at least a year in advance planned out in terms of your business and action plan.
Collaboration over competition is a deeply held belief for this graduate, and she feels blessed to share the upcoming events that she and her partners will be offering.
Please visit India's website to learn more at: www.indiabeeyoga.com and connect with her on social media:
Instagram: @indiabeeyoga
Facebook: India Bee Yoga
Public Classes, Upcoming Trainings and Yoga + Travel
On-Going - Yoga in the Rainforest – Butterfly Wonderland
Sundays, 1PM – Yoga Nidra – Spirit of Yoga
August 1 – 3, 2016 – Camp Free Spirit – Christopher Creek, AZ
December 2 – 4, 2016 – Embody Love Movement Facilitator Training with Dr. Melody Moore – Phoenix, AZ
March 3 – 11, 2017 – Hawaiian Cruise
April 18-23, 2017 – Northern AZ Tour
August 2017 (exact dates TBD) – San Diego
---
Check out Spirit of Yoga's Electives and Yoga Courses below.