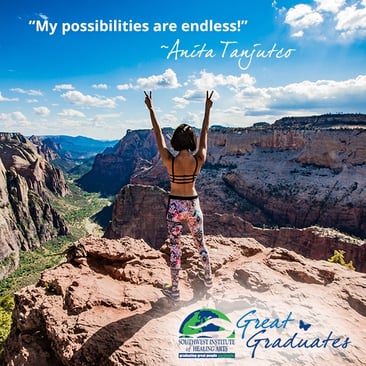 Anita Tanjutco was working for UPS's pre-load shift, and she had 100%-free health benefits. One day she decided to take advantage of her benefits, so she found a chiropractor for routine maintenance. Her massage therapist was a graduate of Southwest Institute of Healing Arts (SWIHA). They became friendly and would always chat during their treatments and one day the massage therapist said, "You would love SWIHA! I think you should check it out!" Anita was twenty-three at the time and not exactly sure which direction she was heading in her life and career. Actually, she had toured another Valley massage school a few years before, however it didn't feel like the right place or the right time. She decided she was open to suggestions, especially since this topic was coming up again for her. A week after this SWIHA chat with her MT, she called the school and set up a time for her to tour of the campus. The moment she arrived on campus, she fell in love, and she knew she was exactly where she needed to be! This felt right: when the timing is right, you just know. So she enrolled in the next available Master Massage Practitioner program.
Each class and teacher had something so unique and special to offer. From start to finish within the massage program, Anita's interests seemed to evolve. At first she loved Myotherapy, however towards the middle of her studies her passion was energy work, which is working with meridians (energy pathways across the body) and the metaphysical body rather than the physical tissue. Then she found Release Point Therapy and absolutely fell in love. In 2008, these classes were taught by Dr. Henele and deeply impacted Anita's life and her future success. The series of classes really took students through a step-by-step journey of healing the body and layers, one by one. "In massage school, you give and receive each treatment during class: it's how you learn the skill. Every single day, we watched our classmates have these breakthroughs, and each of us were witnessing how fascinating and powerful the human body really is. Everyone in the program experienced at least one, huge emotional breakthrough. To have the opportunity to assist my fellow classmates in achieving such magical releases, is why I'd say it was my favorite class. Now that I get to watch the same in my clients-- it is such a blessing."
Among the countless skills Anita learned through her program's curriculum, she is certain her most valued talent/ability/lesson was the journey of finding her consciousness and TRUSTING her instinct. Anita describes all of the teachers she had as supportive and caring. The helped her understand how to trust her inner guidance. "Boy, the moment I let go of thinking and just allow my intuition to lead and communicate with me, I found that I am always correct. It's crazy! I know it might sound like 'coo-coo' talk, yet I love it, and I am so grateful that I have the aptitude and tools required to 'tune-out, to tune-in.'" Since childhood, she always had a special relationship with Mother Earth and the energy(ies) surrounding her. To this day, she has the ability to sense something more than just human-to-human interaction, and SWIHA helped her to learn more about that side of consciousness and how to use this awareness for herself in everyday life, as well as in sessions with clients.
Mind and Body Energetics (LLC) is the name of our graduate's business and personal practice. It is a bit of an oxymoron to say that they are one in the same because they are also very separate, but this is what resonates with her. The business provides the community with high-quality bodywork. She has two shared spaces where clients can come in and see her, however she and the other therapists mostly specialize in off-site treatments. For regular (weekly/biweekly) clients, they are based in the East Valley; most are in the Scottsdale and Phoenix area.
Anita considers herself fortunate to have spent almost nine years being her own boss while working for herself. She has been contracted with a few companies over the years and has always had the freedom to maintain her own personal clientele and make her own schedule. What inspired her to finally file for the business's LLC was the growth of her clientele. "Since day one, my goal has been to assist as many bodies as I can, so they can achieve optimal health. I realized I couldn't do it alone anymore—my reputation began to grow larger than me. (Thank you, Universe!) So I needed to seek out other therapists who share my love for wellness, so they could take on the overflow. Now that they could join me in the on-site side of the business, I could reach further towards my goal."
Mind and Body Energetics offers: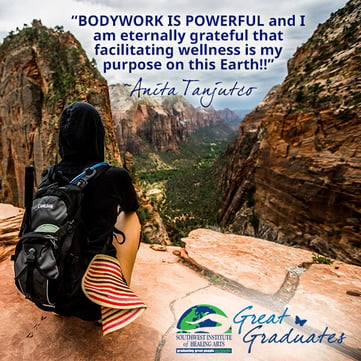 Swedish
Reiki
Myofascial Release
Chronic Stress & Pain Relief/Release
Post-Operative Treatment
TMJ Syndrome Relief
Arthritis & Carpal Tunnel Relief
Deep Tissue
Pre & Post-Natal
Reflexology
Lymphatic Massage/Drainage
Organic Coconut Oil Scalp Treatment
Organic Body Scrub
Hot Stone Massage
Sports Massage
Chair Massage
Providing services for events: parties, fundraisers, tradeshows, sporting events, VIP parties, etc.
Anita feels that it goes without saying that every body, person, or session is completely unique from one another. Her clients all have a purpose for being on her table and before each treatment they set a goal for their time together. "After our initial greeting we will discuss, 'What's going on with your body?' which can take about 90 seconds or can take up to 5 and 10 minutes! Once we are familiar with our intention, that's when the true magic of nature begins to create its own magic. Even if a client is unaware or not familiar with any kind of energy work and I'm giving a sports massage, my clients experience a shift and 'let go' of energy which no longer serve them. I believe that's what sets me aside from your 'average' therapist; and I know I'm above average because I am told time and time again...which never gets old, and it feels good to have found my purpose in life and have the opportunity to constantly share my gift."
Clients of ALL walks of life make up Anita's clientele. They range in ages of preteens to over 80. She has professional athletes and their family members, as well as bank clerks and computer programmers— there is no one type of body that she "mostly" works with. "I have clients who've come to me with pain, discomfort, and lethargy from autoimmune diseases, cancers, chronic pains, migraines/headaches, and so on. My clients have sought bodywork from me because they've heard or read reviews about how I can truly assist their bodies in experiencing relief from pain or confusion of a hovering cloud in their life. I can do this by facilitating Reiki to energetically break through tough hurdles and barriers. I feel very grateful that I am both a massage therapist and a 6th generation Usui Reiki Master—combining my education of physical tissue manipulation and what I know of the metaphysical body, is how my clients and I can achieve such powerful work together."
For years, Anita felt that she had been anti-marketing. From the beginning, she has built her clientele through word of mouth and referrals, and she is more than happy to explain the type of work she does to anyone who isn't familiar, but sometimes it has been difficult for her to market… Anita. Selling or marketing herself and her abilities has been challenging. "This is a skill that I have been working on for the last two years, and I am getting better with it. I also realize I can pay someone or a company to take care of my marketing but it just hasn't felt right… just yet." The easiest part of starting her business was just getting started. She was already providing bodywork to the community for years before she actually decided she was going to name her practice. "I did all the research, filled out and filed all the paperwork myself, and turned it all into the Corporate Commissions office in Downtown Phoenix. The most challenging aspect of starting my business was overcoming my fear—fear of failure and rejection. It's hard when you've created something that you love so much and you're so passionate about, and if no one embraces it… it can be heart shattering… YET that was me being in my head, and of course I wasn't rejected by the big, scary world [wink]."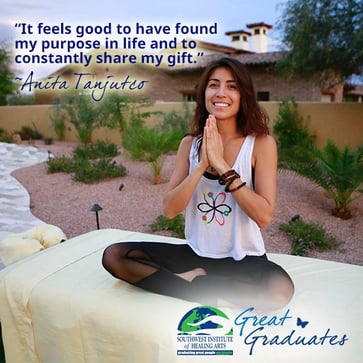 Anita uses the skills she learned at SWIHA in every session. "It feels great; it feels beautiful; it's emotional; it's exhilarating, empowering and unconditionally rewarding!! SWIHA taught me the foundation of my bodywork skills, however finding my own unique gifts over the years has been such a gratifying sensation. Witnessing my clients' bodies transform in front of my eyes and hands is unlike any describable feeling, and seeing them feel and acknowledge the difference is the best!"
In Arizona, massage therapists must take 25 hours of continuing education every two years so Anita has taken CEU's yearly. "The body is so fascinating and I love learning everything I can about it. So, yes, I have and will continue to always pursue learning about the body, thanks to my certification and lifestyle." Huge breakthroughs are what drive Anita's passion and practice, so she is confident in saying that she has attracted clients who require assistance in letting go of traumas, whether they're aware of it or not. Here is one of her favorite breakthrough stories:
"A woman in her early 60's had found me through Yelp. We spoke briefly and scheduled an appointment. She was searching for a bodyworker to help her with a frozen shoulder and chronic pain in her upper trap region and neck, which caused frequent headaches and occasional migraines. Well, this woman had been experiencing these pains for OVER 40 years. She was in a diving accident when she was a teenager and shattered her shoulder with other minor injuries. Over the years, she went through physical therapy and worked sporadically with other massage therapists and could never get the pain managed, until she found me. Our first session was 90 minutes and I mainly focused on her back and hips; I also talked her through some visualization. We processed her accident and the emotional trauma associated with the pain. I had her face down during this segment and she was bawling her eyes out and sobbing uncontrollably. All the many, many years of pain and sadness were coming up and being revisited, full force (because she was ready to let it go), while I held the space for this breakthrough to take place for her.
Before we began our session, her range of motion in her shoulder was maybe 30% and she was hardly able to raise her arm to a 90 degree angle, laterally. In just those 90 minutes, we accomplished getting her range of motion to a solid 60-70%, and she was able to raise her wing close to 150+ degrees. She cried with gratitude, thanking me for providing the space and knowledge she required to process and let go—I shared tears with her. It's so special to experience these kinds of sessions with my clients. I often shed tears along with them because the gratitude goes both ways. This lovely client of mine sees me once every few months for maintenance and no longer has chronic pain; she no longer experiences migraines or frequent headaches; and she says she sleeps comfortably at night which she hadn't done for years. BODYWORK IS POWERFUL, and I am eternally grateful that facilitating wellness is my purpose on this Earth!!"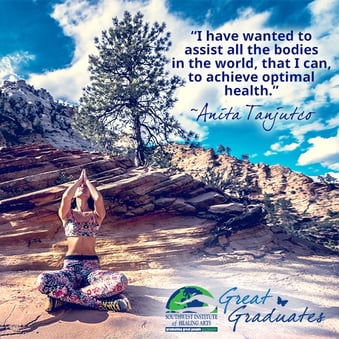 Anita believes that her SWIHA education has changed her perspective of self and altered her course for the future. "My life as an almost 32-year old is aaamazing, and I have NO clue where I would be if SWIHA and I never crossed paths 9 years ago. My only course for the future is to continue serving and sharing the gifts I was introduced to at this great school. My possibilities are endless!"
Anita has a special message for students and graduates who might want to follow in her footsteps: "Follow your heart— If you can dream it, if you can imagine it, you can become IT! Listen to your gut instinct/intuition that is your heart, and it will never lead you astray. As cliché as it may sound, it's a cliché because it's true. If you're a big thinker, allow yourself to turn off your brain and feel what is right, rather than think what is right. Also, success in this industry takes time and experience. Be kind and patient with yourself and your practice—you can achieve your dreams! It might not happen overnight, and that is OK!"
Stay in touch with Anita online!
 www.Facebook.com/mindandbodyenergetics
 www.instagram.com/mindandbodyenergetics
---
Myotherapy 7-Step Massage was originally the 'flagship' program of this institute.