Lauren Doyle has been life coaching for over a year now; allow me to share her reflection, "Both my own experiences with self-work, as well as finding myself as a mentor and guide to friends and family, has led me to life coaching. I found that throughout my different careers and jobs, I was often sought out for my knowledge and advice. I finally decided that there was a gap and the need that I could fill." When Lauren coaches her clients, she utilizes the Rewriting the Story worksheet the most. She finds that this tool allows clients to reflect and rewrite, not only past experiences, also to stop the train of automatic negative thoughts (or ANTs) that can so easily take over, freeing clients to move on and write the future they really want.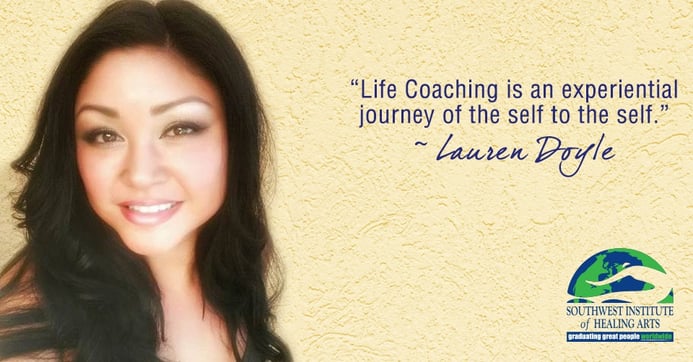 She has found her niche in relationship coaching. These relationships can be romantic, family, professional, or platonic friendships, yet she puts tremendous value on the work of the 'relationship-to-self." Lauren says, "In my opinion, this is the most important relationship of all. My clients are looking to change their views and feelings, either towards themselves or those in their lives. They're looking for real change and I'm always excited to provide a fresh outlook on what may seem dull or stagnant to the client. Oftentimes what seems impossible is actually an amazing opportunity for growth and exploration!"
A powerful quote from this yoga teacher, life coach, and hypnotherapist:
Everyone is doing the best they can with the tools they've been given.
Lauren explains with this insight: "If we can see that others aren't always "out to get us" and instead are navigating their lives the best way they know how, it really frees us from taking on the struggles of other people and allows us to focus on our own needs and aspirations."
It is easy to see that she is very passionate about this work and helping others get to where their hopes and dreams lie. She told us that her passion is always fueled by the happiness and satisfaction she witnesses in her clients. Every time she gets an email from a client, or even a gift showing their gratitude, it reaffirms that her work here is valuable and that she is making a difference in her community and in the lives of others. "Seeing that look of tranquility and relief on my client's faces each time they leave my office is the absolutely the BEST feeling in the world!"
From the time she began her journey towards enrollment at Southwest Institute of Healing Arts to present day, she gives SWIHA the credit for giving her the resources and support that she needed in preparation for creating her business as a holistic entrepreneur. This was her experience in her own words:
Not only did my SWIHA support team understand the technical aspects of business— such as taxes and federal ID numbers, also they understood the energetic and emotional toll that being a business owner can have. SWIHA prepared me both mentally and emotionally for being a business owner; they always stressed a work-life balance. And they always reminded us that in order to fill the cup of others, your own cup must first be full. They also assist you in taking a realistic view of your current financial situation and potential business expenses so that you can create a plan to turn your goals into reality.
Check out Lauren's business, Bodhi Building and her #GreatGraduates blog on the SWIHA website: Being Soul-fish: Feeding Her Soul First, To Help Others.