Have you ever noticed how people respond when you ask them how they are doing? Many will respond with how busy they are and some will include a list of things they are doing or issues they are dealing with. In Spring 2014, Harvard School of Public Health, the Robert Wood Johnson Foundation and National Public Radio researched what truly makes Americans so stressed out. According to their study, approximately 27% of people related their stress to health-related problems. A good portion of those surveyed also listed life changes, problems with work, family issues or problems with personal relationship as there most stressful experiences. We've all experienced these stressors in one way or another. We're human after all.
So how do we turn these problems into opportunities?
"12 Guiding Principles of Transformational Life Coaching"
One of those principles is: All problems stem from separation: therefore, the solution comes from connections.
In the Life Coaching program at Southwest Institute of Healing Arts, students are taught the "12 Guiding Principles of Transformational Life Coaching." One of those principles is: All problems stem from separation: therefore, the solution comes from connections. One can find connections by remaining in the present moment, along with the knowledge that we are ALL CONNECTED. Worrying about the past or fretting over the future drains us of energy we could be using to tap into our power in this moment right now. Consider the following 7 ways you can reduce stress through remaining mindful vs. mindFULL.
7 Ways to Reduce Stress through Mindfulness
1. Tokens
Take a cue from the Super Mario Brothers and place tokens throughout your path. These tokens are gentle reminders to remain in the present moment. 
Some simple tokens could be:
- Wearing a yellow (or any color that you choose) string or bracelet around your wrist
- Placing sticky notes with affirmations in your car, wallet, at your desk, all over your house.
- Setting mindful reminders on your phone (use the alarm, apps etc)
2. Connect Through Conversation
Pick up the phone and call someone. We've become so accustomed to texts, emails, tweets and snaps that we forget to just pick up the phone and reconnect with someone. It can even be a short call. How nice would it be to get a call from someone who just wanted to wish you well?
Heart to heart conversations are the best. Everyone's vulnerable. Vulnerability attracts honesty, honesty attracts soul connections.
3. Attitude of Gratitude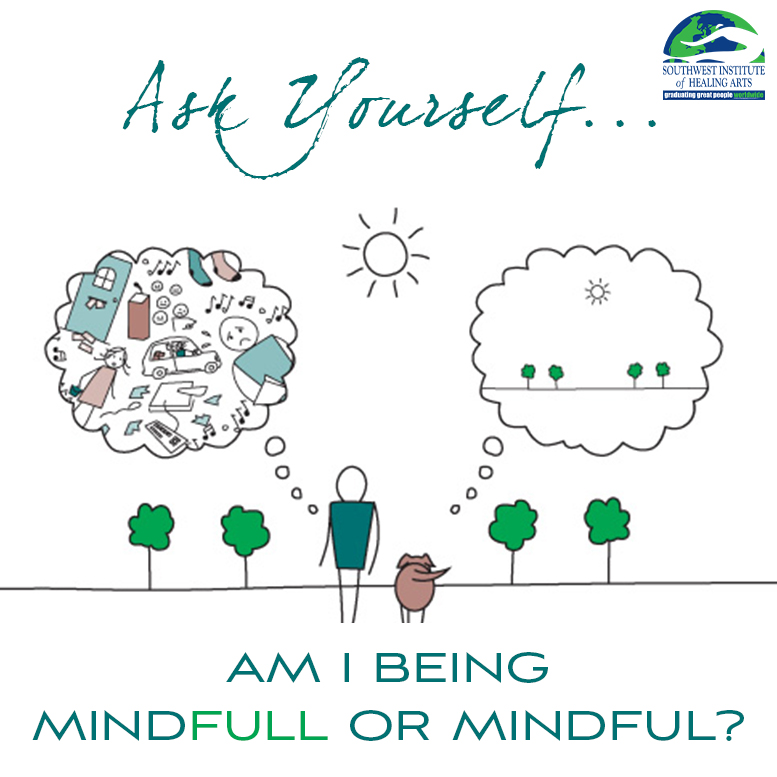 Stop and check-in with yourself during the day by thinking of things you're grateful for that happened that day. You could even make notes and toss them in a gratitude jar with the intention to go through them monthly with family or friends. Each member of your family could even have their own jar.
4. Breath and Meditate
If you find yourself in a pickle or your mind is racing, just think of the Bob Marley song lyrics: "Don't worry about a thing, 'cause every little thing gonna be alright." Just close your eyes and breathe. If you're at work, step outside and take a walk while focusing on your breathe. Starting your day with meditation is a great way to set the mindfulness intention for the day. Even getting in 15 minutes of peaceful breathing during your lunch break will do wonders.
5. BE
Sometimes it's just a matter of taking the time to be present by taking the time acknowledge those around you. Put down the phone, tablet and other devices and listen. Make eye contact. Ask the cashier what the favorite part of his/her day was. Connect with people you know, and don't know.
Today you are you YOU, that is TRUER than true. There is NO ONE alive who is youer than YOU! -Dr. Suess
6. Random Acts of Kindness
This is a fun one and you can get creative as you'd like. You can find hundreds of ideas online; here's a few favorites:
- Leave a note of encouragement somewhere a random person will find it
- Buy coffee for person behind you or send dessert to another table
- Make a list of things you appreciate about a friend or family member and hide somewhere for them to find
- Compliment a stranger
- Write a letter to somebody who made a difference in your life
- Leave sticky notes with motivational sayings in magazines or books
7. Follow Your Heart
Choose to believe you have the answers within. Find the gift in each day by listening to your heart. Create joy throughout your day by doing things that make your heart sing. Who doesn't love a little dance break?
Do you have any tips for staying connected to the present moment?
Please share them with us! Remember, this moment right now is a gift. Smile and stop being so serious. There are blessings happening each day if you'll just quiet that beautiful mind of yours and connect.
---
Southwest Institute of Healing Arts (www.SWIHA.edu) offers a 100-hour Transformational Life Coaching program that can be completed residentially or on-line in 3 to 6 months. The program is designed to help individuals discover their gifts and greatness, while preparing them to help other to do the same. Graduates of the Life Coaching program offer start their own private coaching business, or excel in their current professional position. For more information go to BeALifeCoach.com (www.BeALifeCoach.com).