At a young age, Sue Shapiro recognized that her words could either cause harm or help someone feel better, and she believes this knowing came from the near death experience she had at the age of four. This inner knowing was a frightening space for her to be in because most people could not accept that a little one could be so perceptive, so she eventually shut down and was so painfully quiet and shy, that her grandmother thought there was something wrong with her. 
Sue shares that she was simply standing back, taking in the world around her, and after decades of following a path that never felt like her own, her path converged with the Southwest Institute of Healing Arts (SWIHA), by what she can only refer to as a 'divine appointment'.  "I was looking for a quality nutrition program, with some aspects of spirituality and SWIHA offered a Mind Body Transformational Psychology degree program; that program felt right to me. I can honestly share that Life Coaching was not on my original radar when I was first looking at the possibility of attending SWIHA online."  Life Coaching is part of the core curriculum and while she was very hesitant about becoming a life coach, she wholeheartedly believed it has been the answer to her destined path; a path that she was not open to walking until she had been through many different life challenges.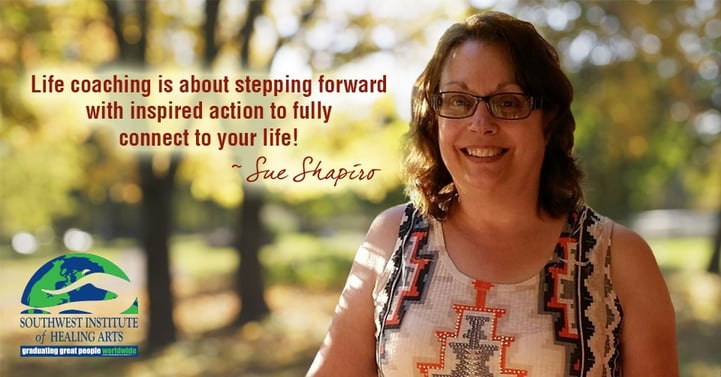 When asked which life coaching tool or worksheet that Sue used the most she replied, "Wow, this feels like a trick question because there are so many life coaching tools that have been gifted into the world."  She also said that if she must narrow the selection, it would be as follows:
Vision Boards: She is a big advocate because when someone can visualize what they want (this or something better), the mind begins to accept this new reality. 
Journaling:  This process helps keep the client accountable for the goals they set for themselves.  She will always make this suggestion to clients, although it's up to each person whether they want to keep a journal or not.
Overcoming Fears Worksheet: People have this odd propensity to focus on things they fear and, most the time, those fears never materialize. She likes working with this tool because it opens people up to the realization that our minds (EGO, actually) play a huge role in perceived fears, versus the truth of what we fear.  It really helps change the mindset.
Balance Wheel: This is her 'go-to' or beginner life coaching tool, for the vast majority of her clients. She has a couple of versions she uses, one is the Life Balance Wheel and the other is a Nutrition Balance Wheel (when the coaching is focused on nutrition).  Why do I feel the Balance Wheel is a great tool to present in the initial coaching session? It is beneficial in the first coaching session because it helps to open the doorway allowing a client to view their life, and where they see themselves, at that present moment.  All other sessions will build on this initial foundation.
Toe reading:   She had to include Toe reading as a tool that she values a lot!  This is often a tool that will lead to additional life coaching sessions. 
Life Survival Kit:  This is what she uses as a marketing tool.  The message is we are all part of the collective whole and, as her grandmother used to tell her, we can do anything we set our minds to doing. "I've passed some of these out where I work and it's helped people make it through a rough day, week, etc.  We live in a society that has disconnected us and people really hunger for connections.  This little kit helps put life into a nice perspective." 
Right now Sue offers a lot of different modalities: Life Coaching, Hypnotherapy, Toe Reading, and Spiritually Guided Oracle Card readings via Skype, telephone, or email. She is also an ordained minister so she can officiate weddings.  "I define my approach as 'intuitive and inspired! My coaching style is done in a gentle, often Spiritual or Soul based manner, yet forceful enough (when needed) to create forward movement with my clients.  I listen deeply, picking up on subtle changes in breathing or outward movements. " 
One of the key phrases in the brochures and marketing materials Sue has been designing, is Connect to Your Life.   A common thread with many of her clients is that they come from a place where they feel they've been stuck living someone else's ideas of their life. Clients drawn to her style of coaching are searching for their  soul-calling.  Some clients have been drawn to her story of having had near-death experiences, and they tell her they feel safe with her because I get what they experienced.  "People who gravitate to my style of life coaching are serious about making the big changes in their life; many are older, and all are seekers of truth.  They have raised their children, they are seeking new direction, they are ready to move into the experiences they had only been able to think about when they were busy doing for everyone else.  Many of my clients are very intuitive yet do not recognize this aspect of themselves until they are in the coaching process. Through coaching sessions they learn to accept those intuitive thoughts rather than downplaying them."   
Sue believes, "We each attract to ourselves the clients who resonate with who we are. As long as we, as life coaches, continue to do our own work we become readily available to hold that sacred space for our clients."  She loves to toss this challenge out to her clients: "Dare to be Awesome." She says they answer the challenge with gusto!
Here are some of the favorite quotes that Sue:
'There are no extras'
'Now that's a thought.'
'I see you.'
This one was, by far, the single most important take away from my time in the program at SWIHA.  What is the most important thing for people to know? That they matter enough to be seen! It still brings tears to my eyes when I hear or see this statement, because no one else had ever said this to me before.  As a life coach, this one statement "I SEE YOU" will be a game changer to a client.  To really be seen and to really be heard... is life changing." Sue's personal quote that she loves to share with clients is: 
"To feed your soul….jump in puddles, color outside the lines, and always breathe in gratitude." 
Sue wants to tell potential life coaching students to be open to endless possibilities!  She stresses that being a Life Coach is a great honor; to use the skills wisely because it touches many lives. "Be patient with yourself because it is no accident that you signed up for the life coach program. Be willing to do the homework and keep doing it even when you become a great life coach! " In the beginning, life coaching may seem scary or foreign to new students, the path is so worth any bumps that may be encountered along the way.  She shares that students should be prepared to have moments where they feel very uncomfortable and to stay with the process because those moments are going to be the pivotal, defining moments of shift.  "What I tell my clients is once they feel uncomfortable they can break through to being incredible!"  
Spirit guided Sue to this path, and she knows that it's her honor to continue guiding others to their path. She says there are five things that fuel the fire in her soul to keep doing this amazing work that brings her clients to where they want to be:
Path
Purpose
Blueprint
Art
Soul
"On my website and brochures, I explain that  life coaching is a relationship between a client and a life coach.  What develops during this relationship focuses on you (the client)  creating the Path, the Purpose, the Blueprint, the Art, and the Soul of your own life!  It does not matter if you are young or old; life coaching is about stepping forward with inspired action to fully connect to your life!" 
Everyday Sue keeps going because knowing that what she does inspires people to participate in the process that fully connects them to their own life!  "The Life Coaching program at SWIHA was so transformational for me, personally, that this is what keeps my passion alive to help others.  Seeing those eye-opening, 'Ah-ha!' moments, those life-shifting pathways, going from uncomfortable to incredible... it makes what I do soul inspiring.  I can be creative through life coaching, and if I am able to help just one person move forward to their dreams, that keeps my passion fueled.  I have had several articles published because life coaching opened me up to that writing talent I had allowed to fall by the wayside.  My writing keeps my passion alive because I know I can reach people through written word."  
Every instructor  Sue had was instrumental in guiding her along and helping boost her confidence level.  She is still in contact with several of her former instructors.  "SWIHA is full of so many gifted individuals, it's an awesome tribe to be connected to. I really learned a lot on my own about how much support is available from the school by going out to the website and searching around." She knows that she can always reach out with questions, seek guidance, look for some direction related to building her business, etc.  There is entrepreneurial support through the Success Center too.  She is still working a full time job and is at a crossroad where she is feeling a strong urge to fully engage in the Life Coaching opportunity and step away from the job.  "I am not as technologically inclined as many of my younger counterparts, so my current plan is to reach out to Will Zecco for some guidance on how to proceed with a better webpage design and some other online marketing strategies, figure out Twitter, set up a FB page separate from my personal page, etc. etc. etc.  He's awesome!  So, yes, there is a ton of support through the school.  Use it! I would totally encourage others to become a student at SWIHA because any program you take will positively change your life!"
Sue Mitchell Shapiro
Intuitive Guided Inspired Life Coach /Educator & Hypnotherapist: 
"Guiding Individuals Toward Self: Self-Compassion, Self-Acceptance, Self-Awareness,
Self-Expression, and Self-Love"
(480) 433-3269 – Cell
(928) 554-7813 – Home (voicemail option, not text)
Creative Life Purpose, LLC (website coming soon)