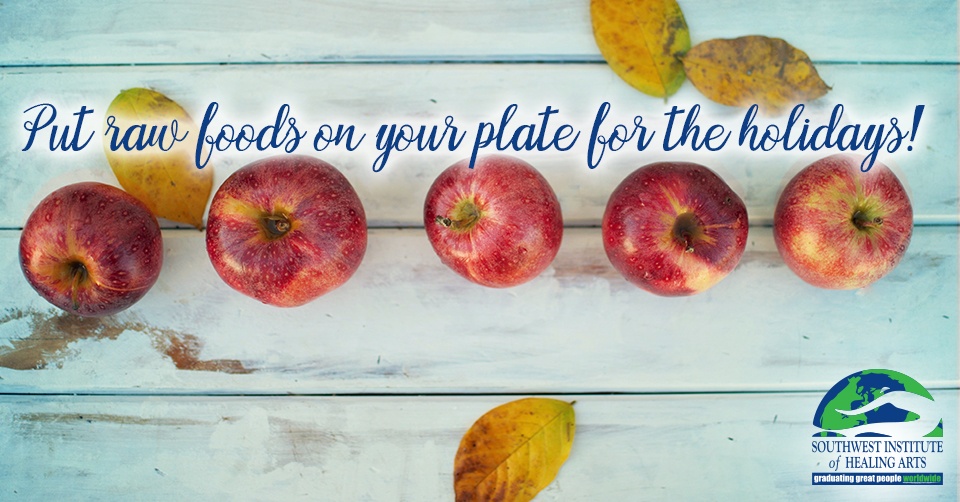 Thanksgiving is just around the corner, and we all know what that means…
Many of us will spend the final hours leading up to the big day frantically racing through the aisles of our local grocery store, on the hunt for the essentials and that one critical ingredient we almost left off the list. Turkey? Check. Ten pounds of potatoes? Check. Ground nutmeg for the pumpkin pie? Oops…
It goes without saying that the last thing we need in the midst of the mania is MORE stress. An easy solution to this dilemma is to introduce raw cuisine to your table this Thanksgiving. Live foods need to be on your plate all year round, and holidays are no exception.
Consider these perks of eating raw on Thanksgiving:
1. Less time spent in the kitchen. Because raw cuisine involves exactly that—raw foods—you'll be able to effectively cut down on the most frustrating aspect of dinner preparation: the cooking time. No more anxiety-ridden pacing in front of the oven as you wait for the sweet potato casserole to finish! No more hovering over the stove with a spoon, hoping that your gravy roux doesn't burn! When you eat raw, you can nix the baking, boiling, frying, roasting, and sautéing all together and instead spend that precious time enjoying the company of your loved ones.
2. You'll feel a whole lot better. While it's largely been disproven that the tryptophan in turkey causes us to get sleepy, the high amount of fats in the average Thanksgiving dinner can demand a lot of energy to properly digest, resulting in a drain of the body's blood to the digestive system. Couple this shift with alcohol consumption and overeating, and you are set for the so-called post-dinner "slump." By eating raw or partially raw on Thanksgiving, you can cut down on the mass consumption of calories and reduce your intake of unhealthy fats and other "crash culprits" like sugar and excessive carbohydrates. Less of these means less recovery time!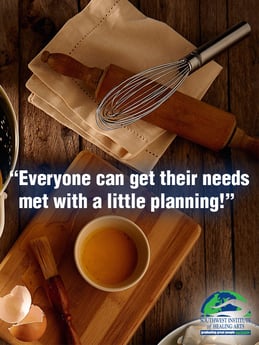 3. You'll be doing the earth a big favor. What better way to show thanks for this wonderful world than to reduce your personal footprint on it? Eating raw dramatically shrinks our power usage by eradicating the use of gas ovens, stovetops, and microwaves; it slashes our carbon footprint through the elimination of animal products like meats and dairy; and it cuts down on water usage because there's simply fewer dishes to wash!
Janet Lee, one of the talented instructors for SWIHA's holistic nutrition program, has this advice for those planning to give raw cooking a try this Thanksgiving:
Add color to your table! Bright green, red, yellow, and orange fruits and vegetables make great accompaniments to cooked dishes this holiday season.

Avoid energy crashes by eating high vibration foods!

There are raw alternatives to every cooked item on the classic Thanksgiving menu. Get creative and you will find solutions. Everyone can get their needs met with a little planning!
With this in mind, we have two raw recipes to share today, both which would make fabulous additions to any Thanksgiving table. Swap your normal gluten-heavy stuffing for this flavorful herb version and ditch the apple pie in favor of this torte for just the right amount of sweetness!
Savory Herb Stuffing
(from Matt Amsden, RAWvolution)
1 cup soaked raw walnuts (soak 2-4 hours, let dry on counter)
1 cup soaked raw pumpkin seeds (soak 2-4 hours, let dry on counter)
1 cup soaked raw sunflower seeds (soak 2-4 hours, let dry)
1/3 cup chopped yellow onion
3/4 cup diced celery
1 cup chopped mushrooms (briefly marinate in a bowl with 1-2 tablespoons of Nama Shoyu or Tamari, a healthy raw soy sauce, and set aside for 30 minutes)
2 Tablespoons olive oil
1/4 teaspoon sea salt
1/2 teaspoon sea salt
1/2 teaspoon black pepper
1 ½ teaspoon kelp
(in a salt shaker or ½ sheet of nori – optional)
1 ½ teaspoon sage
1 ½ teaspoon thyme
1. In a food processor, grind the walnuts, pumpkin seeds, and sunflower seeds.
2. Pour into a mixing bowl.
3. Combine all the ingredients, mix well, and serve. Serves 3-4.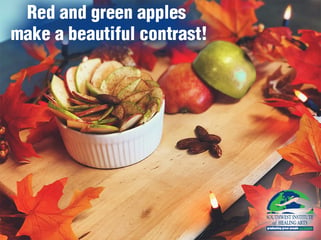 Apple Cinnamon Torte
(from the Living Light Culinary Institute)
Yield: 1 round 9-inch spring form or tart pan
Crumble Cake
1 cup raisins
1 cup almonds (soaked/dehydrated to crisp)
1 cup walnuts (soaked/dehydrated to crisp)
1 teaspoon vanilla extract
6 apples (half red and half green make a beautiful contrast!)
Cinnamon Glaze
1/3 cup coconut sugar, powdered in a food grinder if too coarse
1/4 cup coconut oil, warmed to liquid
3 tablespoons lemon juice
1 tablespoon cinnamon
NOTE: If the glaze becomes firm, place the mixture in a sealed jar and put in a warm water bath or dehydrator to keep it liquefied.
To make crumble cake layer: Grind almonds and walnuts in food processor. Add in the raisins and vanilla, and process again. Do not over process. The mixture should be slightly grainy. Form mixture into two medium and one small ball and set aside.
For the apples: Use an apple corer to take out the core. Cut apples in half and use a mandolin to get thin slices for all six apples. Divide into three piles.

Whisk together the powdered coconut sugar, liquefied coconut oil, lemon juice, and cinnamon to form the glaze

To assemble the dessert:

Sprinkle one large ball of crumble on the bottom of pan.

Line the apples around the edge of the pan with the red and green peel facing the outer edge pan. Fill in the rest of the layer with the remaining pile of apples.

Brush a third of the glaze over the apple slices and drizzle down the edge.

Continue with a layer of crumble, apples, glaze, etc. Top with a layer of apples and the remainder of glaze.

Garnish with crushed nuts, or pomegranate seeds.

The Apple Cinnamon Torte stores in the refrigerator for up to 5 days. Serves 8-10.
NOTE: For extra flair and a touch of beauty, Janet suggests garnishing the torte with pomegranate seeds!