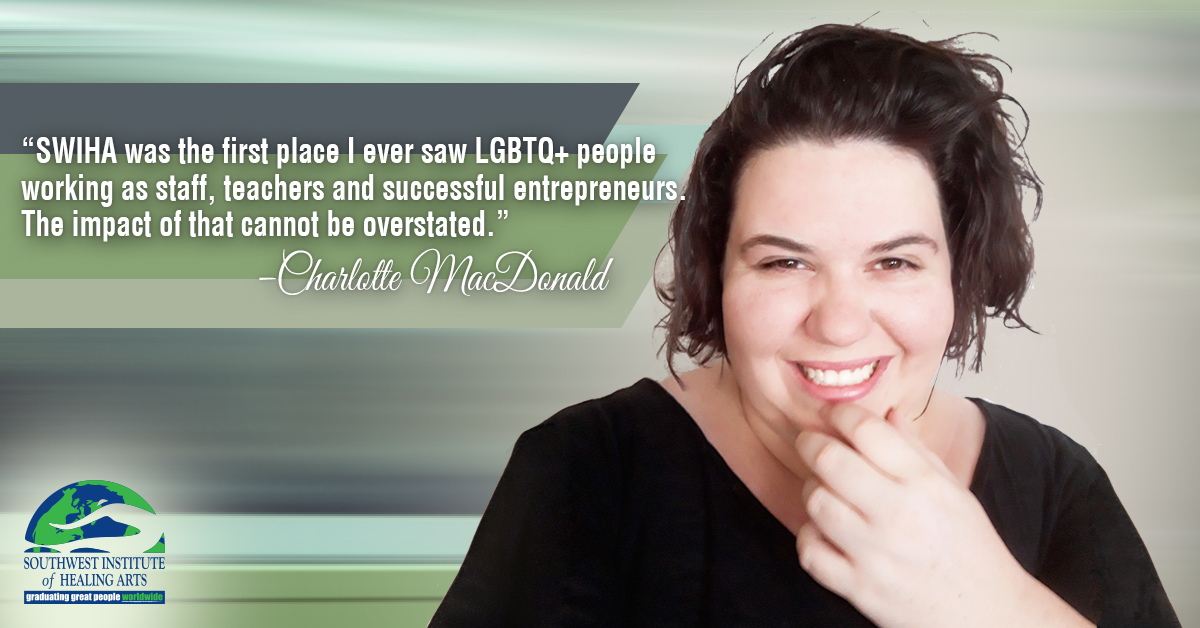 Charlotte MacDonald describes her life before SWIHA as a pile of scattered puzzle pieces which she struggled to fit together.
"Being a queer teen and a missionary forced me to reconcile with my spirituality. As I allowed it to evolve and grow, I sought out a career path that would allow me to feel fulfilled as I left my evangelical roots behind," says Charlotte.
She went on to discover the Spiritual Studies certificate offered at Southwest Institute of Healing Arts and decided to pursue the Mind-Body Wellness Practitioner program. She tells us: "When I got here, I discovered so much more than I bargained for and began sorting through my story and opening to my healing process."
Charlotte states that the impact of the SWIHA commUNITY extended far beyond the curriculum: "How could your life not be changed by attending SWIHA? My wife and I joke that discovering SWIHA is like finally getting your Hogwarts letter. Here's this institution of folks who are just weird, and so completely comfortable with themselves. They've dedicated their lives to being better humans, and loving others. Being surrounded by people like that forces you to love better, to be more open, and enables you to be less afraid of what others think. You see examples of people dancing to their own tune, and they're happy and successful. It instills this glimmer of hope that I can do that too."
"I really appreciate SWIHA for making me feel included," she shares "and I applaud them as a business for creating a space that feels open and accessible to a queer person of size such as myself. Being at SWIHA was the first place I ever saw LGBTQ+ people working as staff, teachers and successful entrepreneurs. The impact of that cannot be overstated."
"It's only recently that I've begun to feel secure in who I am, and what I do," Charlotte admits, "When I left SWIHA, I still felt unsure of me. I hadn't settled into a modality. So I kept searching."
The quest to complete the puzzle pieces brought her to complete a degree in Creative Writing. Charlotte says that: "When I found words, I found my voice, and the healing and confidence building I did at SWIHA helped get me there."
Charlotte's writing is heavily influenced by her study of the healing arts. She is currently working on a personal manifesto and course that enables others to connect with their inner-selves and the divine through the written word. What she believes about healing and transformation was instilled in her at SWIHA and is a large part of what she hopes to share with the course she's creating.
"The greatest lesson I learned is that the negativity we sometimes get from others -- their opinions, their doubt in us, the hurtful things they say -- is about them and not us. It's where they are in their process," she affirms.
To future SWIHA students, she gives these encouraging words: "Know that this time you'll spend here is as much about finding and healing yourself as it is about finding your work. You don't need to find your path, you're already on it. Just immerse yourself in this experience, and trust your feet to carry you where you need to go."
To experience the power of Charlotte's writing, join us on July 12th at 6PM for Gifts & Graces, where SWIHA students and graduates will be sharing their poems, stories and more!