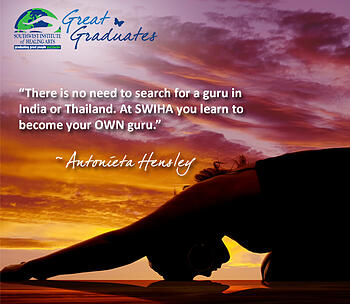 When it comes to discovering Southwest Institute for Healing Arts (SWIHA), Antonieta Hensley has Google to thank! "After I saw all the courses, programs, and classes they offered, I was sold. It sounded like a temple or a mystery school available in the states and I knew it was calling for me before I ever stepped foot on the school grounds."
Antonieta graduated from the 600-hour Mind Body Wellness Practitioner program. She also went through the Yoga Teaching Training, Transformational Life Coaching, and Hypnotherapy programs. She went on to share how her time at SWIHA dramatically changed her life for the better:
"The laws of attraction, eastern philosophies, energetic body healing, taboo subjects, and spirituality have always fascinated me. But that is only about 10% of what the school has to offer. It surpasses your expectations on both what you can learn and whom you can meet. There is no need to search for a guru in India or Thailand. With SWIHA you can become your OWN guru."
Antonieta's passion for this field came from her love of being of service to others. She adds, "It is such an honor and I cherish it deeply." She went on to say how she learned so many energetic tools and practices on healing and releasing your mind, body, and spirit, yet the most valuable things she inherited was how to forgive, how to let go, and how to love herself. Her favorite class was Past Life Regression with Linda Bennett. "I would have to say, every teacher I had inspired me in their own unique way. Nacho Verdugo was the one that made me realize how powerful our energy is through sound healing, dancing, and reiki work."
In regards to her business, it is simply named after her and is located in the state of Michigan. "I am an independent contractor who currently has two permanent studios where I teach yoga and meditation classes", shared Antonieta. "I also do private hypnotherapy lessons, health coaching, and past-life regressions."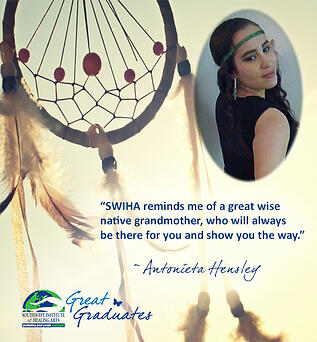 She teaches yoga and meditation for a company in Detroit, named LA SED - Latin Americans for Social and Economic Development. It is a 5o1(c)(3) non-profit agency serving Hispanics and residents of Southwest Detroit since 1969. Antonieta is honored that she is able to help provide cutting edge, contemporary wellness strategies to a community that can benefit so much from fresh ways to maintain good health, manage stress, and learn self-responsibility.
Antonieta's desire to start her own business stemmed from her previous background as a personal trainer, where her focus was always on the overall well-being of her clients. "I have always wanted to help people feel good about themselves and keep them healthy physically, mentally, emotionally, and spiritually." Her current client base ranges from all ages, whether seven or sixty-five. Her clients are typically seeking for self-improvement, by removing any blockages that are preventing them from reaching their highest potential.
What can you expect in a typical session with Antonieta? "Clients will experience emotional and physical releases, which help them let go and raise their self-love. They will learn tools on how to stay healthy in a holistic manner, while experiencing transformations in their life that will support them for their highest good."
She teaches at Simply Yoga, which is a studio best described as a safe place where students can practice letting go of self-judgment, distraction, & stress through the sequencing of asanas (poses). Antonieta has developed a following in a short amount of time. She even has students leaving testimonials on the studio's Facebook page:
I am going to sleep well tonight after Antonieta's class today! Thank you for melting away the stress I have been carrying on my shoulders all weekend!
Tonight's class was AMAZING! Lightworker Antonieta Hensley led a wonderful class! If you did not make it out tonight we hope you come next week.
Loved today's class! Thank you for the peace of mind!
Standing strong in her message and her education, Antonieta feels comfortable telling her students that they can't have movement without mindful breathing and meditation, and vice versa. She explains that practicing yoga brings the body balance, discipline, self-love, self-expression, and connection. Losing weight and getting toned or sexy is all extra and not at all close to what yoga really is about. On her personal Facebook page, she encourages her friends to take time to be by themselves, cry, breathe, and move their bodies. She asks them to do whatever it is they have to do to manage their emotions in order to become more grounded and happy. "When you're mad or sad, you become more ill and unhealthy. These are facts, not fiction. Reevaluate your choices; we always have choices."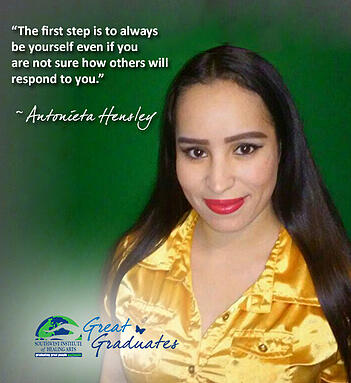 Antonieta mainly markets her business through word of mouth. "I always try to stay pro-active with vendor tables at events and festivals to advertise my business. I also have my own website that brings in a lot of traffic. In addition, I use social media, meetup.com, and free advertising websites." She is also very active in the public Facebook group, Simply Yoga Dearborn. By keeping present in that group, more people are drawn to come to her classes and seek out her services. She even did her first YouTube video showing people how to bring their yoga practice on the go. It is called Car Yoga. She hopes to share more videos in the future.
As a result of her SWIHA education, Antonieta shared how she plans on obtaining her Bachelor's degree in Science, and affirmed that SWIHA was the place she needed to start her educational journey! "SWIHA has that powerful energy vortex that you can participate in and come back to at any time. SWIHA is a home for everyone to come back to for comfort, peace, stability, and love. It is profound and life changing. I am forever grateful for her. She reminds me of a great, wise, native grandmother who will always be there for you and show you the way."
Antonieta has these inspiring words for future SWIHA students and graduates:
"The first step is to always be yourself, even if you are not sure how others will respond to you. The second step is to always believe in yourself, no matter how many rejections or disappointments you might get at first. Just remember when you imagine having a big successful career, if your teacher, mentor, or coach could do it and accomplish it, why can't you?"
Stay connected with Antonieta at the following links!
---
About the Author, Anthony Scarpulla
As a recent graduate of the University of Miami with a B.A. in Creative Writing and Journalism, Anthony Scarpulla serves as freelance Creative Copywriter. With a deep yearning to uncover the hidden, spiritual and esoteric realms of life and nature, Anthony aims to incorporate his passion into everything he loves, whether it's writing poetry, music production and djing, to blogging, editing, and one day soon, healing work!
"You are the universe in disguise as am I."
– Anthony Scarpulla